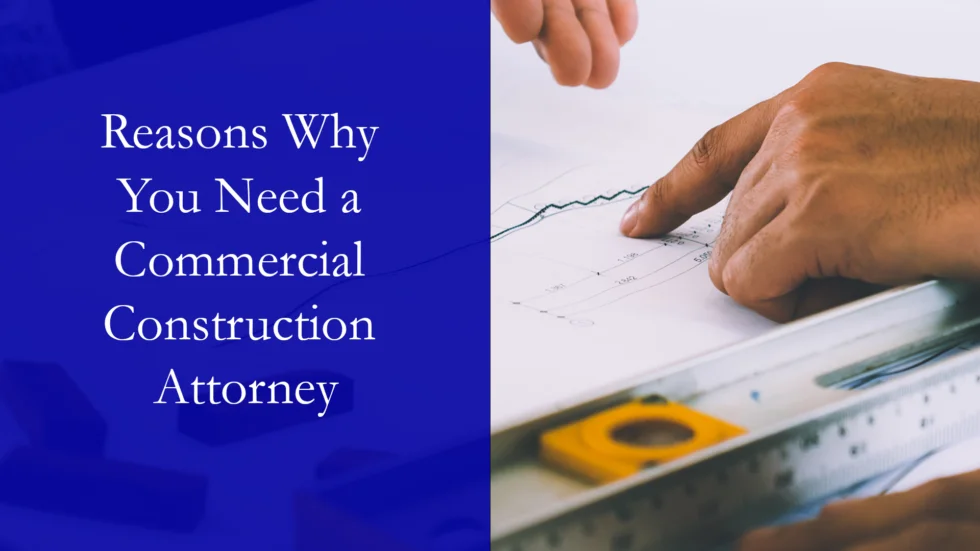 Commercial construction attorneys aren't something you've probably given much thought about unless you've needed one in the past.  In reality, construction attorneys, specifically when it comes to commercial projects, should be integral to the process. 
What is a Commercial Construction Attorney?
A construction attorney can legally guide you through a construction project keeping your best interests in mind. Any of the parties involved in commercial construction, including property owners, architects, construction companies, general contractors, subcontractors, consultants, landlords, and tenants, can and may need to hire an attorney at some point in the construction process.
In general, an attorney assists with the legal aspects of a construction project. This often revolves around the contracts between different parties involved in the project, however, there are many situations that can arise between planning to handover that may require the assistance of an experienced attorney. 
What Does a Commercial Construction Attorney Do?
Here are some common situations where you may need to hire an attorney:
1. Reviewing Construction Contracts
Construction contracts provide the basic groundwork for the project, such as the duration, timeline, payments, permits, and termination agreements, to name a few. A boilerplate general construction contract may not work for every project, which is why hiring an attorney to write and review it can save you from possible disasters later on. Similarly, an attorney ensures you're fully aware of the details and identify risks before signing it. 
2. Disputes Among Concerned Parties
Any of the parties involved in a commercial construction project may develop a dispute. Disputes usually happen over payments, breaches of contract, or workmanship. Legal representation allows you to resolve a dispute using arbitration/mediation between the parties to avoid going to court. If the parties cannot resolve the dispute, an attorney will handle the litigation in court and defend your case. 
3. Representation in Law Suits
Even if you don't need a lawyer to represent you when fighting or defending your case in court, it's ideal to have one. A business attorney can identify your potential liabilities. Otherwise, you may end up losing the case and spending more time and money than it would've taken had you consulted with an attorney. 
4. Personal Injury Claims
Liability for an injury on a construction site may fall upon the owner or contractor, depending on who was directly responsible. In the initial stage, an attorney will help resolve the issue using negotiation or worker's compensation without the need for litigation. If no other method works, the attorney will defend the case to the best possible measures in court. 
5. Defective Construction
Claiming or defending defective construction can turn into a lengthy process. To ensure you are aware of your rights, the laws applicable to the case, and the liabilities, you'll need an attorney to walk you through the process. In these cases, an attorney may also reduce the damages by negotiating with the opposition. 
6. Getting Through Regulations and Permits
A construction attorney can guide you through understanding and making sure you're legally protected regarding state regulations, permits, zoning laws, and environmental factors. Bowen Law Offices provides utmost expertise when it comes to hiring a construction attorney in Muskegon. Trying to handle legal matters on your own can ultimately cause delays in the project, cost you more money, or leave you vulnerable. An attorney has the background and experience to advise and guide you.
7. Termination of Contract
Whether you're filing for contract termination, seeking price escalation, or fighting against wrongful termination, a lawyer is helpful in all phases. Taking a hasty way out can increase the risk of liabilities. With an attorney's help, you can avoid these problems and enact any provisions stated on the contract upon termination. 
Final Verdict
Attorneys are imperative to any construction project, public, private, or federal. With the help of a business attorney, you can protect your rights, understand the details and liabilities, and fight your case with higher chances of winning than without an attorney. Proper legal representation can aid in back-end support to avoid disputes and litigation too. Overall, an attorney saves your energy and money in the long run for any construction project.