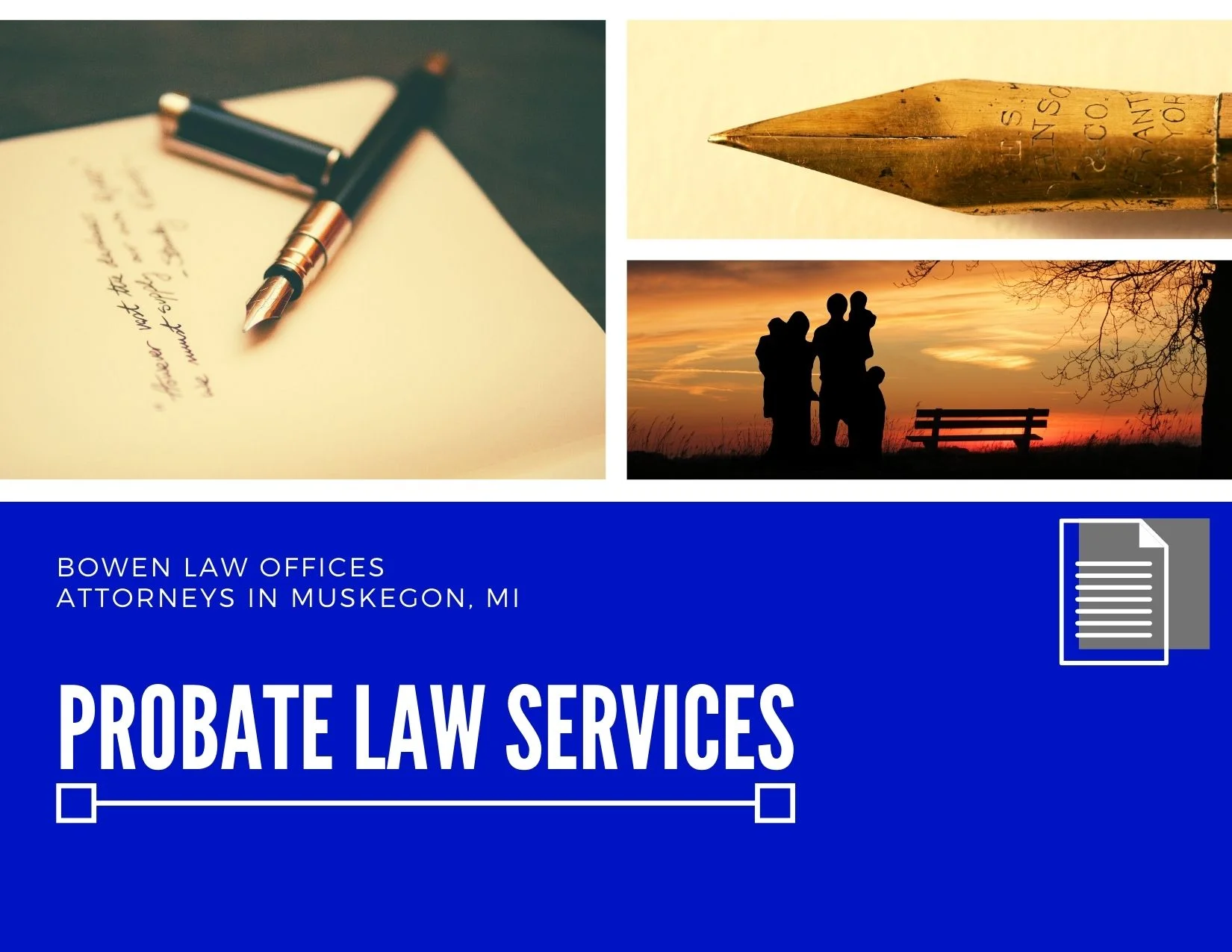 Probate Lawyer
Muskegon, MI
Probate Lawyer
Muskegon, MI
Do you require a Probate Lawyer in Muskegon, MI? The first thing you need to ask is, what is probate?
Probate is the legal process in which a deceased person's estate (all of their assets and personal property) is administered by the court. Probate Court presides over Decedent's Estates, Administration of Trusts, Conservatorships, and Guardianships. These courts carry out estate administration whether a person had a legal will or died without one. A person who died without a will is considered intestate.
A person's estate doesn't always go through probate, it depends on what arrangements they had before death, such as a trust. If deemed necessary to go through probate, the process includes filing an estate with the court, submitting a will if one exists, appointing a personal representative, accounting for personal assets, and the distribution of the estate.
If you require guidance after the death of a loved one, we have a Muskegon probate lawyer ready to assist you with identifying assets, obtaining appraisals, filing documents necessary for the probate court, transferring assets to beneficiaries, and more. Our lawyers also have years of experience with the following Michigan probate laws:
Conservators are similar to guardians. A conservator is someone appointed by the court to care for a legally incapacitated individual regardless of the individual's age. The difference between a conservator and guardian is that conservators are charged with watching over and making decisions about an individual's property as well as their finances. Conservators are also entitled to reasonable compensation.
A Guardian is a person appointed by the Court to care for and make decisions on another's behalf. A guardian essentially has legal responsibility over another person, but it's less about their property. A guardian's responsibility begins when they sign a document called an "Acceptance of Appointment." Sometimes, an individual will disagree to having a guardian. In such a case, the court must appoint an attorney for a hearing. Similar to a conservatorship, guardians may be entitled to reasonable compensation.
Both Guardianships and Conservatorships are very serious legal steps that receive close monitoring by the probate courts for an obvious reason: they take away an individual's rights and freedom.  Again, the easiest way to differentiate between a Guardianship and a Conservatorship is that a Guardianship takes care of the person, while a Conservatorship takes care of a person's assets.  Bowen Law Offices functions in these areas of law on a daily basis.  Before you attempt to go forward on your own, please contact us and set up a consultation so that you may understand the law.
Our focus is on our clients' well-being, and we understand the importance of tailoring personalized solutions to clients' individual needs. We make sure that our clients' interests are protected at every stage of the process. When disputes do arise, we strive to resolve matters through amicable settlement. However, when mediation is not practical, we will not hesitate to advocate aggressively on your behalf in a court of law.
Bowen Law Offices are result-oriented, client-focused, proactive, and efficient when it comes to providing innovative legal solutions for our clients' probate needs. So do not wait – if you require the assistance of a Muskegon attorney, contact us today for a consultation.