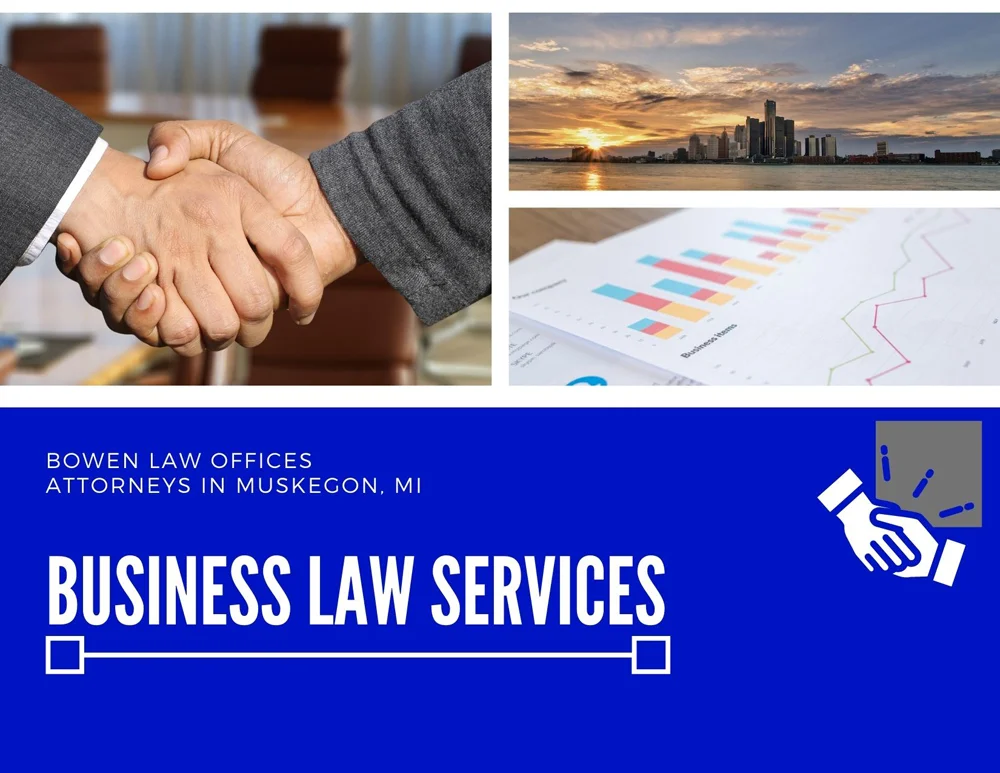 Business Lawyers
Muskegon, MI
Business Lawyers
Muskegon, MI
Law and compliance influence all areas of the corporate and business environment, and various complex legal challenges confront business owners and managers. At Bowen Law Offices, we provide our clients with reliable and effective representation in legal matters that arise in the business context every day. Contact a Muskegon business lawyer today! 
Why Consider a Muskegon Business Attorney?
Bowen Law Offices provides comprehensive legal advice and counsel to start up business organizations to facilitate selection of the appropriate business form, customized for our clients' individual situations. The firm's professionals also aid established companies in their day-to-day legal problems and support various multifaceted business transactions, keeping our clients' best interests in mind. The firm keeps abreast of changes in local, state, and federal law so it can represent its clients in all stages of their operations, from regulatory compliance to transactions to litigation.
We are proud of our commitment to providing effective, cost-sensitive guidance to clients throughout any business matter. We stand prepared to identify and address our clients' needs, no matter how complex, in the business, corporate, and commercial settings. The firm makes use of state-of-the-art technology and up-to-the minute information to keep its clients' corporations, limited liability companies, partnerships, and trusts working at top efficiency. If you require a Muskegon lawyer or Muksegon business attorney, contact us today.
A  shareholder dispute may arise due to fiduciary misdeeds, ethics violations, financial misrepresentation, minority owner rights violations, and so on. If you're in a shareholder dispute that can't be resolved, it's best to seek legal counsel.
Commercial disputes are those between companies and they can occur for a multitude of reasons, such as corporate disputes, fraud, debt collection, breach of contract, employment disputes, and product liability.
Corporate Governance Matters
Corporate Governance Matters
Corporate governance is the system of rule used by a board of directors to oversee company operations. Business lawyers can be utilized to advise a board and their committee members.
Business Partner Disputes
Business Partner Disputes
Whether it's finance contracts or negotiations, a proper business lawyer can help you gain leverage with any financial disputes, be it issues with repayment or assistance with understanding the law.
When it comes to business contracts, a Muskegon business lawyer has the upper hand due to their powers of negotiation. Muskegon business lawyers can look over contracts, help you understand key terms, and help adapt a contract for Michigan laws. Protect your best interests by hiring a lawyer that can help you navigate lengthy contracts.
An asset transaction is when a buyer purchases certain assets and liabilities, like trade secrets or equipment from a company, but not the entire company. Allow us to lead you through the nuasences of the process.
Mergers and acquisitions can be tricky, which is why a Muskegon business lawyer can help draft and file paperwork and assist with complicated negotiations.
Issues Affecting Entity Status
Issues Affecting Entity Status
Our focus is on our clients' well-being, and we understand the importance of tailoring personalized solutions to clients' individual needs. We make sure that our clients' interests are protected at every stage of the process. When disputes do arise, we strive to resolve matters through amicable settlement. However, when mediation is not practical, we will not hesitate to advocate aggressively on your behalf in a court of law.
Bowen Law Offices are result-oriented, client-focused, proactive, and efficient when it comes to providing innovative legal solutions for our clients' business needs. So do not wait – if you require the assistance of a business attorney in Muskegon county, contact us today for a consultation.