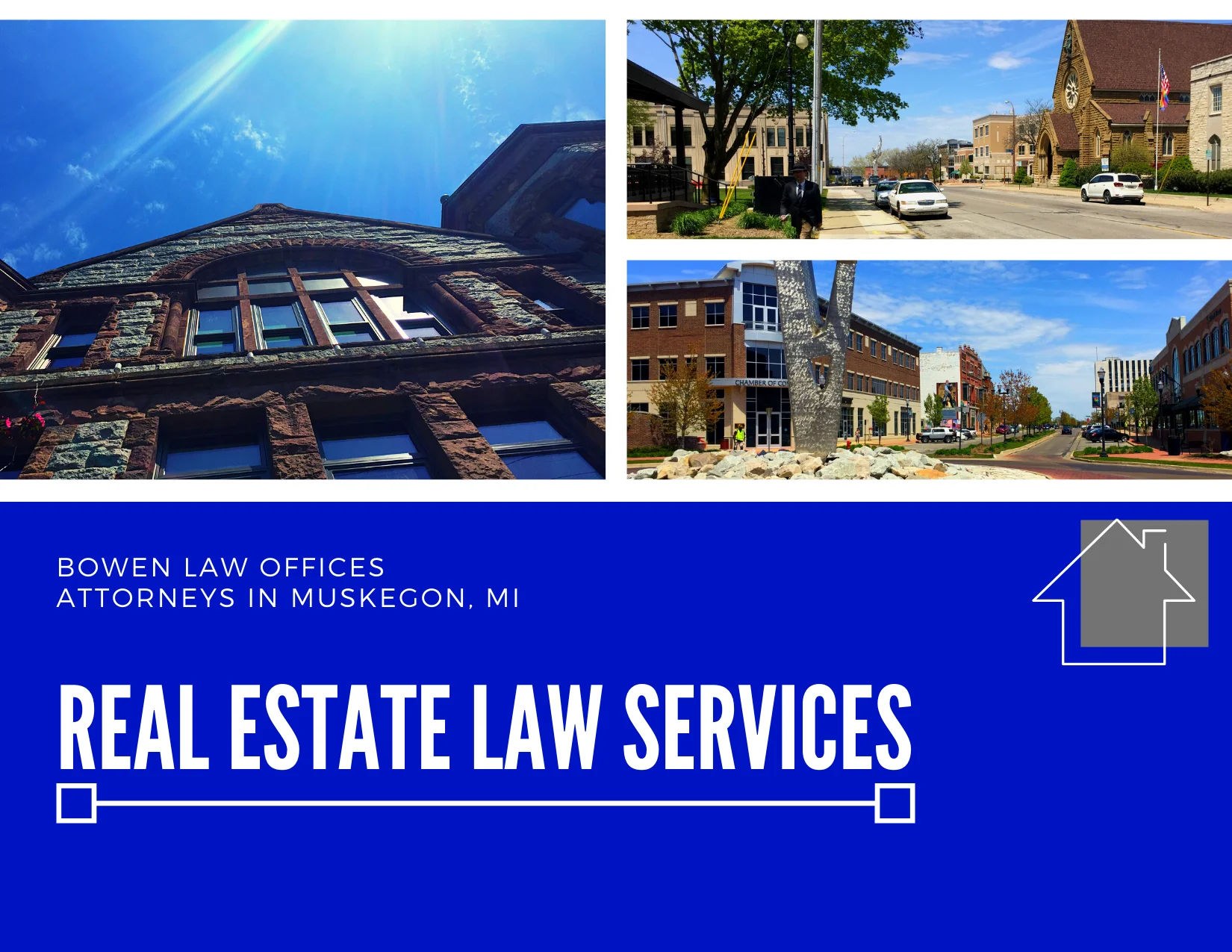 Real Estate Attorneys
Muskegon, MI
Real Estate Attorneys
Muskegon, MI
When it comes to Michigan real estate law, the office of Bowen Law is here to provide you with the highest quality legal services available. We understand the importance of real estate investments, not only in the property itself, but you and your loved one's future. Our law firm's real estate attorneys offer legal advice to clients located in downtown Muskegon, Ottawa county, Zeeland, Spring Lake, Grand Haven, Newaygo county, and Oceana county.
In west Michigan, we have established ourselves with our hard work, dedication to client's needs, and our delivery of quality professional services in a timely and cost-sensitive manner. Our knowledgeable real estate team keeps you informed from start to finish.
Whether you require guidance with commercial buildings, residential properties, such as single-family homes and condominiums, or industrial real estate in Michigan, we have a Muskegon real estate lawyer ready to assist you. Bowen Law Offices is your source for the following real estate law services:
Boundary Disputes and Easements
Boundary Disputes and Easements
Landowners should be aware of where their property lines begin and end. When neighbors encroach on your property, oftentimes with construction, such as fences, you may have a case. On the other hand, if property lines are well known, neighbors can negotiate with one another to procure an easement, or the ability to use real property without owning it. The attorneys at Bowen Law can help you create a legally sound contract to obtain an easement for your residential real estate needs. Read our guide Property Boundary Disputes in Muskegon – Everything You Need to Know
Real property is not only the land someone owns, but also all the structures permanently attached to land. We can help you convey real property, whether it consists of crops, canals, wells, ponds, roads, or the land itself.
The words "title" and "deed" are often interchanged, but they aren't the same. A title is the legal right to utilize a property; it's a concept, but can still cause disagreements regarding claims to land. Having a title comes complete with what is called a bundle of rights, such as the rights of possession and disposition, meaning that a title holder owns and may sell or rent out their home. A deed is the physical legal document that allows someone to transfer a property's ownership. Avoiding title disputes and writing a legally binding property deed can be made simpler with the expertise of our real estate attorneys. Read our Frequently Asked Questions about Muskegon Deeds.
There are various laws in place to prevent discrimination against prospective tenants and homeowners, some of which include the Civil Rights Act of 1968, Fair Housing Act, and Americans with Disabilities Act. Landlords cannot refuse a tenant due to their race, color, religion, gender, or handicap. If you feel you've been discriminated against during you housing search, contact us today.
Eminent domain is when the government takes possession of private property for public projects, and provides compensation. Eminent domain may be challenged when the government isn't taking the property for public use, doesn't actually require the property for a public project, or has failed to offer compensation at fair market value. The law is your best defense.
Landlord-tenant law is an area of common law that specifies the rights and duties of both landlords and tenants whether renting commercial or residential properties. Many states have laws that lay out where and when rent is due, but, more specifically, Michigan rent rules regulate rent-related issues, such as evictions. Read more about our Landlord-Tenant Legal Services.
Land Use and Zoning Issues
Land Use and Zoning Issues
Zoning allows government municipalities to regulate land use. This helps governments determine the size of buildings and where certain types of properties may be placed. For instance, zoning regulations may not allow a contractor to build soaring high rises in front of a residential area populated with single-family homes. Zoning limitations are partially in place for safety reasons. Zoning and compliance can affect whether or not you've been approved for a building permit. A real estate attorney in Muskegon, Michigan, can help you stay up to date with current Michigan state land laws to make sure there are no environmental laws, ordinances, or restrictions affecting your future property.
One common topic in the state of Michigan is land contract law. Land contracts are an alternative form of financing in which a buyer purchases a property from a seller, but doesn't receive the title until their debt has been paid off to the seller. If the buyer is unable to fulfill their financial obligations, the property returns to the seller and the buyer is not reimbursed. Land contracts are acute to an unconventional mortgage payment where, instead of a title, purchases receive equitable titles.
Land contracts are appealing to purchasers because they don't have to get a mortgage through a bank, oftentimes because of their credit. This type of financing is still paid in installments, but to the seller. There's another type of contract, called a wrap-around contract, where the seller is still paying off the home they're selling's mortgage. Land contracts can also eventually turn into mortgages for buyers who work on their credit. Read our Guide to Land Contracts in Muskegon.
Purchasing or renting real estate can be a complex process. Perhaps your seller has failed to disclose property damages, or maybe you're having a deposit dispute, either way, having real estate lawyers handle your real estate matters is a valuable asset. The same goes for broker and agent matters.
Michigan waterfront property owners have riparian rights. Having riparian rights means that if your home borders, or touches, a lake or river, you have a right to use that water on your land. Riparian rights are not transferrable. These rights are passed along with the title of a property.
Our focus is on our clients' well-being, and we understand the importance of tailoring personalized solutions to clients' individual needs. We make sure that our clients' interests are protected at every stage of the process. When disputes do arise, we strive to resolve matters through amicable settlement. However, when mediation is not practical, we will not hesitate to advocate aggressively on your behalf in a court of law.
Bowen Law Offices are result-oriented, client-focused, proactive, and efficient when it comes to providing innovative legal solutions for our clients' real estate needs. So do not wait – if you require the assistance of real estate attorneys in Muskegon county, contact us today for a consultation.