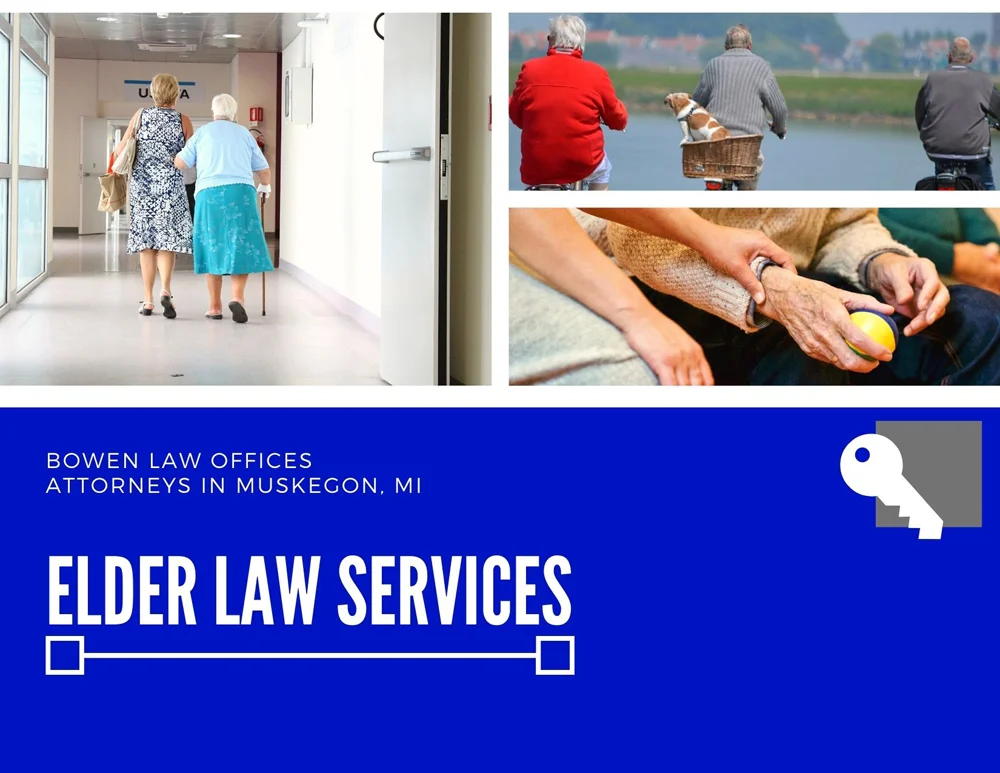 Elder Law Attorneys
Muskegon, MI
Elder Law Attorneys
Muskegon, MI
What is elder law?
Elder law is a legal practice area that focuses on senior citizens, mainly financial and healthcare issues, but also delves into estate planning, guardianship, and elder abuse.
Bowen Law's elder law attorneys are your loved one's elder law advocates. You may be growing older and ready to make difficult decisions in regards to preserving and transferring finances and assets, maintaining eligibility for Medicaid, obtaining assistance from Medicaid Benefits, or nursing home rights. You may also be a concerned family member who needs assistance finding long term care for an older loved one. These are only some examples of the many aspects of elder law and we have a Muskegon lawyer prepared to help.
 Whether you require guidance with Medicaid, long-term care, finances, or guardianship, we have a Muskegon elder law lawyer ready to assist you. Bowen Law Offices is experienced with the following areas:
The expense of a nursing home or alternative care facility can often drain an individual's assets and leave family members picking up the tab. Nursing homes in Michigan cost an average daily cost of $278, that's over $100,000 a year. Unfortunately, many families facing these exorbitant costs are receiving poor advice from their friends, family and even advisers regarding their Medicaid and long-term care options.  Our elder law lawyers help seniors, and their families navigate the difficult, confusing laws surrounding Medicaid planning. Elder law Medicaid planning entails things like structuring finances, preparing the Medicaid applications as well as other documents, creating trusts, and managing asset transfers.
A Medicaid crisis is a situation in which an individual has either been admitted to a nursing home or is about to be placed in one, and has been told that they have too many assets to qualify for Medicaid.  In cases where individuals are in need of long term care, applying for Medicaid can often balance out some of the expenses.  However, Medicaid restricts the amount and form of assets that an individual is allowed to keep.  Along with the complex and ever-changing laws governing Medicaid eligibility, there is also a sixty (60) month look back period for divestment of assets.
Strategies used by our firm, through the use of an individually scheduled "spend down", and other sophisticated estate planning methods can be used to maximize resources and insure the preservation of assets for a spouse or other family members.
Contact us before you start "gifting" assets, naming people jointly or other potential financial mistakes.
When it comes to elder law, estate planning isn't only drafting and having witnesses sign a last will and testament. Living trusts are important for senior citizens and their loved ones. A living trust has the similar function of a will, but bypasses probate. Instead of an executor, living trusts utilize a trustee, who has responsibility of managing assets. There are two types of living trusts, revocable and irrevocable. Revocable living trusts can be revoked or cancelled by the grantor, while irrevocable trusts cannot be changed, unless otherwise decided by a judge. Of course, there a re other facets of estate planning that coincide with elder law as well.
Conservatorships and Guardianships
Conservatorships and Guardianships
If a loved one is incapacitated due to health, it's essential to look into conservatorships and guardianships. A conservatorship may be necessary if your family member is financially incapable, meaning they cannot manage their own assets, or a guardianship may be needed if your family member is unable to care for themselves.
Our focus is on our clients' well-being, and we understand the importance of tailoring personalized solutions to clients' individual needs. We make sure that our clients' interests are protected at every stage of the process. When disputes do arise, we strive to resolve matters through amicable settlement. However, when mediation is not practical, we will not hesitate to advocate aggressively on your behalf in a court of law.
Bowen Law Offices are result-oriented, client-focused, proactive, and efficient when it comes to providing innovative legal solutions for our clients' elder law needs. So do not wait – if you require the assistance of elder law attorneys in Muskegon, Michigan, contact us today for a consultation.