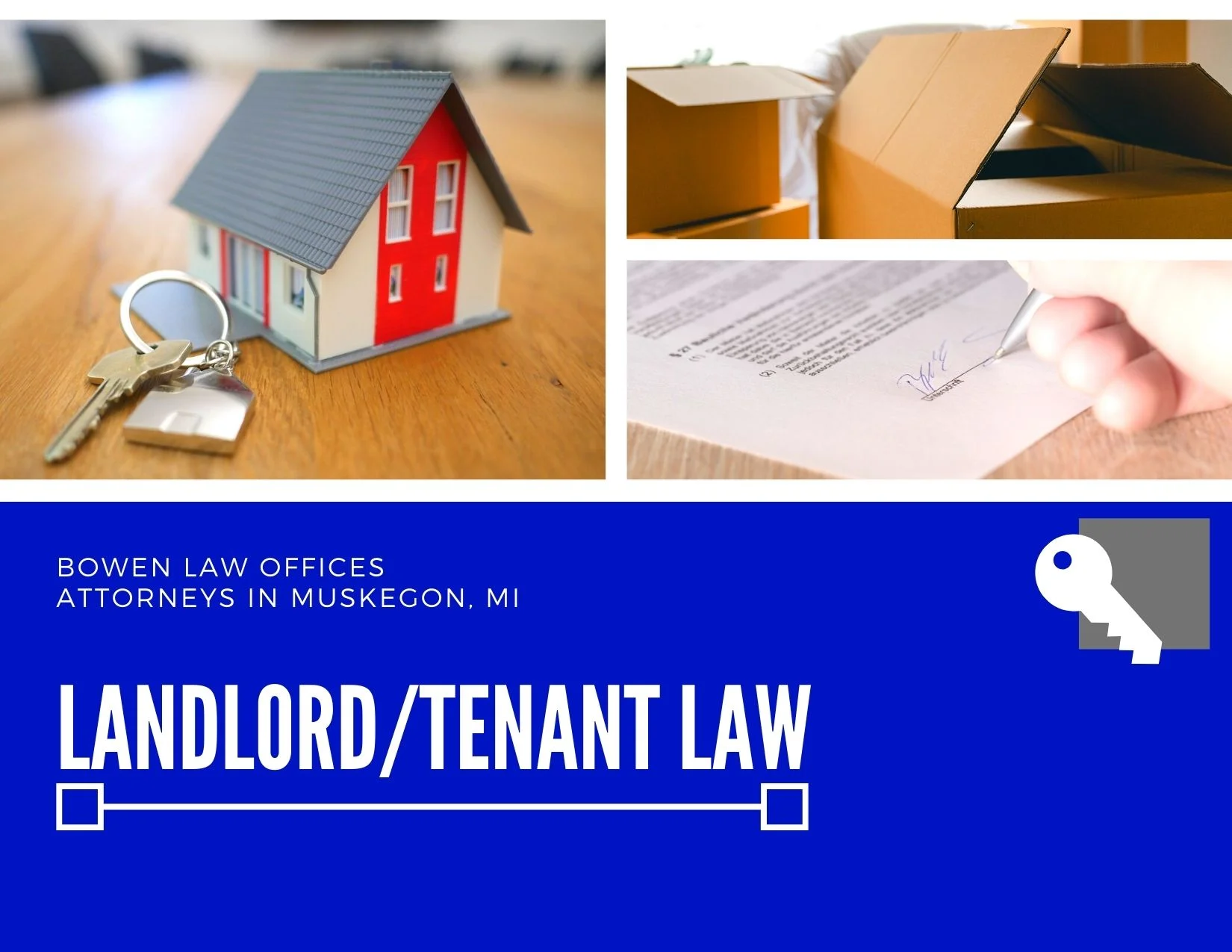 Landlord & Tenant Law
Muskegon, MI
Landlord & Tenant Law
Muskegon, MI
What is landlord tenant law?
Landlord-tenant law is an area of common law that specifies the rights and duties of both landlords and tenants whether renting commercial or residential properties. Many states have laws that lay out where and when rent is due, but, more specifically, Michigan rent rules regulate rent-related issues, such as evictions.
When it comes to Michigan landlord and tenant law, the office of Bowen Law is here to provide you with the highest quality legal services available. Our law firm's landlord and tenant law attorneys offer legal advice to clients located in downtown Muskegon, Ottawa county, Zeeland, Spring Lake, Grand Haven, Newaygo county, and Oceana county.
Whether you require guidance with Michigan leases, evictions or another cause for action, we have a Muskegon landlord-tenant law attorney ready to assist you. Bowen Law Offices is your source for the following landlord-tenant services:
In tenant law, perhaps the most important thing to have when renting is a written, well drafted and legally compatible lease.  The lease allows both Tenants and Landlords to understand, reference and enforce the rental agreement that the parties enter into.  In Michigan, it is very important to understand what type of lease is being entered into.  There are important differences between the laws governing a residential lease and a commercial lease.  There are also important differences between the laws governing a month-to-month lease and a year lease.  Bowen Law Offices encourages you to allow our expertise to advise you when preparing a rental agreement.
There is no "self-help" eviction in Michigan.  In order to evict a Tenant, a Landlord must follow the proper four (4) step process under the Landlord Tenant laws.  If a Tenant is improperly evicted, the Landlord could owe the Tenant money and may have to allow the Tenant back in until the Landlord performs the proper eviction process. Bowen Law Offices handles thousands of Land Lord Tenant matters per year Do not go forward with an eviction without understanding the law. If you require a lawyer in Muskegon Michigan, please contact our offices at (231) 726-4484.
All of the items listed below raise claims for a lawsuit. If a Tenant refuses to pay rent, damages the rental property, or violates the terms of the lease; the Landlord can take the Tenant to court to recover money and evict the Tenant.  On the other hand, if a Landlord refuses to keep the property habitable or improperly evicts the Tenant, the Tenant may take the Landlord to court to recover money and possession of the property.  When a Landlord is, or rents through a Corporation or LLC the Landlord must use a licensed attorney before filing a claim in court.  Before taking any action to court, get in touch with a lawyer in Muskegon Michigan. Please contact us for a consultation to get the advice you need to move forward.
Unpaid Rent – This occurs when a tenant refuses to pay rent.
Property Damage – Landlords tend to be responsible for a unit's livability, but tenants are responsible for rental property damage beyond normal wear and tear.
Lease Violations – Lease violations can occur by both the tenant and landlord. A lease violation is a breach of contract, examples for tenants include failing to pay rent or unauthorized pets. Examples from landlords include trespassing and harassment.
Retaliatory Actions – A retaliatory action is when a landlord retaliates against a tenant who asserts their rights. Some forms of landlord retaliation or payback include increasing rent, claiming non-payment or lack of security deposit, ending or failing to renew a tenancy, decreasing electricity, heat, water, or threatening or trying to evict the tenant.
Lockouts – Michigan has an anti-lockout statute that details ways in which it is illegal for a landlord to remove a person from property without going through the proper legal processes first, which includes locking out a tenant.
Uninhabitable Conditions – When a Landlord refuses to keep the property habitable. If you require a repair in your rental, you should let your landlord know as soon as possible. Michigan landlords are required to make repairs within a reasonable timeframe after being notified; however, if your lease is longer than a year, you may have waived your rights in this regard.
Our Muskegon lawyers focus on our clients' well-being, and we understand the importance of tailoring personalized solutions to clients' individual needs. We make sure that our clients' interests are protected at every stage of the process. When disputes do arise, we strive to resolve matters through amicable settlement. However, when mediation is not practical, we will not hesitate to advocate aggressively on your behalf in a court of law.
Bowen Law Offices are result-oriented, client-focused, proactive, and efficient when it comes to providing innovative legal solutions for our clients' needs. So do not wait – if you require the assistance of landlord or tenant law attorneys in Muskegon, Michigan, contact us today for a consultation.