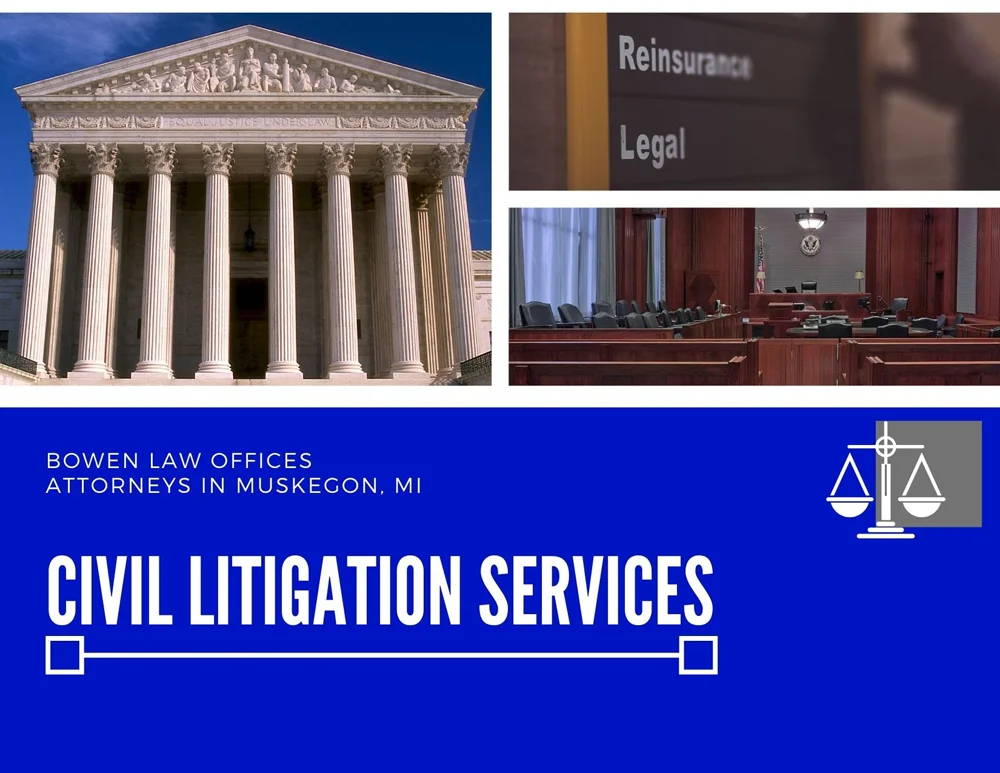 Civil Litigation
Muskegon, MI
Civil Litigation
Muskegon, MI
If a problem arises that cannot be resolved without a lawsuit, the attorneys at Bowen Law Offices are uniquely qualified to zealously represent their Clients in court.  Bowen Law Offices are experienced in many areas of civil litigation including, but not limited to, mediation, construction litigation, commercial disputes, contract interpretation, creditors claims, probate court litigation (Will contests and Trust contests), real estate and boundary disputes, and issues concerning defective goods or services. The attorneys at Bowen Law Offices both prosecute and defend clients in litigation.
The ideas and principals that guide our work are simple, yet effective. They are:
Commitment to delivering high quality, cost effective services
Striving to deliver focused, innovative legal solutions
Adjusting strategies as a case progresses or warrants
Understanding client satisfaction and excellent service are as important as a favorable verdict
Any resolution must protect client interests and provide an optimal solution.
Litigation is arguably one of the most difficult situations a client can face. At Bowen Law Offices, we believe that careful investigation and analysis, together with an effective application of strategy, can make a tremendous difference not only in how a client deals with litigation, but also in its outcome. At Bowen Law Offices, our goal is to achieve results which meet our clients' objectives. We believe it is essential that our clients become our partners in litigation matters so that we are always moving in the direction of the desired outcome. Although, not every dispute can be resolved without a trial, when litigation is the only appropriate way to reach a conclusion, our litigation attorneys provide zealous, aggressive and cost effective representation.
If you require legal services from a Muskegon law firm, contact us today.