Contracts are scary. We've been there – we know what it feels like when you're about to sign a contract. It can be intimidating, overwhelming, and make you feel vulnerable due to the many technicalities involved – but don't worry!
We've rounded up everything you need to know about construction contracts to ensure your next project goes smoothly – from actual clause examples to the must-haves of a construction contract. Here's what you need to know about construction contracts from a professional Muskegon construction contract lawyer.
What Should Be Included in a Construction Contract: Essentials
We've put together a list of five things that are absolutely essential to a construction contract, as recommended by a lawyer for construction contracts in Muskegon:
Contractor Name and Contact Information

– It's essential to include all information about your contractor. The construction contract should list their license number, business name, address, contact information, and email address.

Description of Work

– The size and scope of the job can vary significantly from project to project, but you must include all details in your contract. The document should include when work is expected to be completed, a timeline of how long the job will take (assuming there are milestones), and any other pertinent information about this particular project.



Legal Description of the Property

– Having legal description of the property is integral. This confirms the location of the referenced property and helps prevent confusion or misunderstanding.



Price or Cost of Work

– All prices or costs should be included in your contract. If you aim to get certain services or materials from third-party providers, specify those items in your contract. Doing so allows the contractee to be aware of all the charges – not just the ones coming from the contractor's primary goods or services.



Homeowner Name and Contact Information

– You should include your name and contact information in the contract and the project address. This helps ensure that everyone is on the same page throughout your project.
Best Five Things Your Construction Contract Should Have: Muskegon Lawyer Recommends
We define a well-made contract as one that ensures security. Whether you're the contractor or contractee, the contract should serve not just as a binding paper to accomplish the project but also as a safety net. 
Remedies for Breach of Contract
A construction contract should first include a provision that gives you easy access to your contractor if they break their contract. It can be a template for how the contractor or your construction contract lawyer will structure your contract, and you should include specific language in your agreement that deals with the breach of the contract.
For example, include language that allows you to get out of the contract if your contractor is not following through on their job in the manner outlined in the contract. You can also include language that outlines what sort of damages you may be entitled to if your contractor does break the contract.
Requirements for Proper Documentation
You must include a clause in your construction contract that requires the contractor to provide proper documentation. State requirements may vary, so it's essential to make sure your contractor knows the exact requirements for each area before they begin work.
For example, you should ensure that your contractor knows that any subcontractors used in the construction should have their own contractor's licenses and insurance certificates. You will not be held responsible if the contractor violates local safety laws and regulations. Including this type of language in your contract means you are covered if your contractor is working without a license or insurance certificate.
Change Orders
Another thing your contract should include is a change order. Change orders outline the process for requesting changes to the work. This is especially helpful if you want to make changes or repairs later on in the project or if something needs to be repaired during the construction process.
For example, if your contractor deviates from the original plans, your contract should outline how the contractor will notify you about this. You should also include how long it should take for your contractor to get back to you with an estimate for the change and any extra costs associated with the change order.
No Liens by Subcontractors
It's important to include language in your construction contract that prohibits any subcontractors from creating liens and claims on the property. This prevents you from being held liable for any part of your project done by an unlicensed or uninsured subcontractor.
It's also essential to enforce this clause for contractors working under your direct supervision. Ensure that if you have a stated preference for a particular type of contractor, you implement the clause mentioned above and make sure no one hires someone else to do the work.
Warranties
It's imperative to have language in your contract that requires the contractor to provide you with a warranty for their work. For example, you should include language that requires your contractor to provide you with a full warranty on their work, materials, and labor for the warranty duration.
Actual example:
BASEMENT LEAKS

Possible Deficiency:

Basement leaks

Construction Standard:

Leaks that result in water dripping from the basement ceiling or walls are unacceptable.  

Exceptions to Deficiency:

Leaks caused by improper landscaping installed by the Owner, fixings installed by the Owner that caused the leak, or incorrect maintenance (using substances that deteriorate the basement's structural integrity) are not covered by the warranty.

Wall dampness may occur in new construction, but that is not considered a deficiency.

Contractor Responsibility:

The Contractor will provide free service to fix the basement leaks except where the cause is due to Owner negligence.

Effective Warranty Duration:

36 months
It's also essential to include a clause that requires the contractor to provide you with all documentation associated with the work. This includes material certifications, warranties or guarantees, and any other documentation you may need to maintain your property.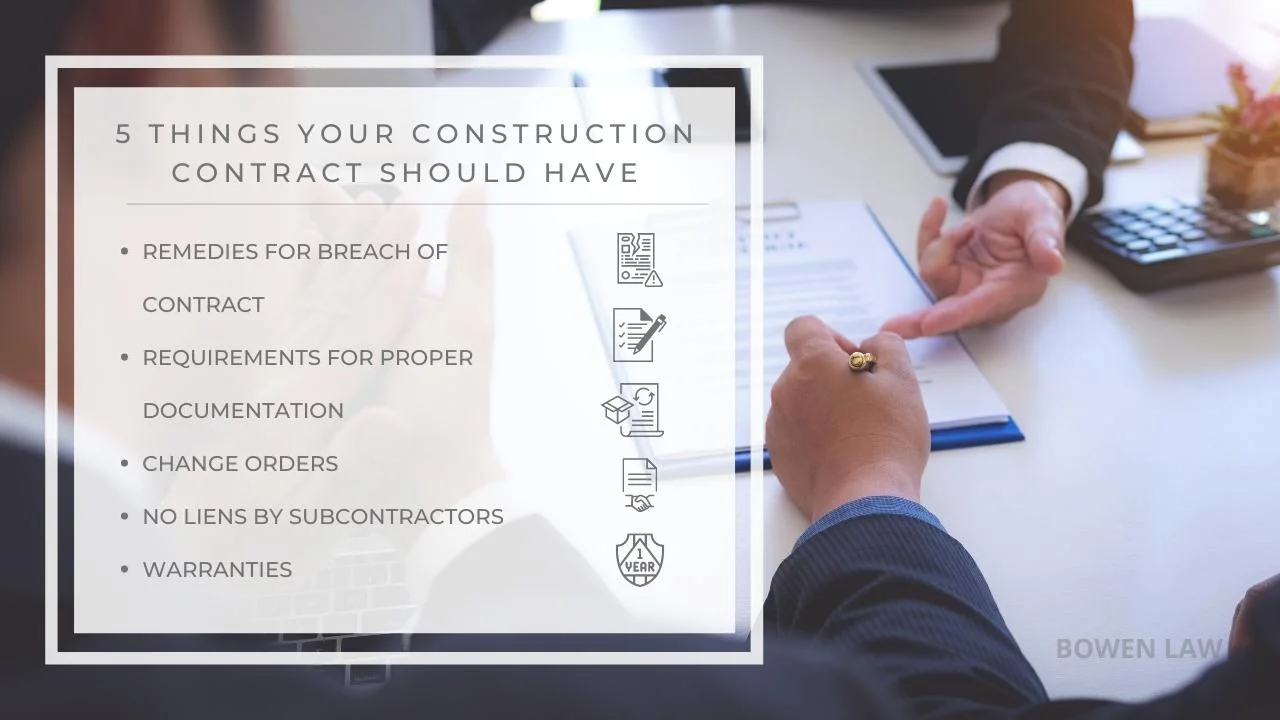 Can I Cancel a Construction Contract?
The truth is that you can cancel construction contracts with just cause. However, canceling a construction contract can be incredibly challenging as you have to confront, convince, and present justifications for why you need to cancel the contract. The most common reason to cancel a construction project is if you feel that your contractor or contractee has not fulfilled their commitments or obligations.
If you decide to cancel your contract, you need to give your contractor a notice of the cancellation. This is dependent on the terms stated in your contract, likely under a clause covering cancellations and ending the construction contract. It is key to pay close attention to the fine print.
If you are unsure, it's a good idea to hire a Muskegon construction contract attorney. You can use Google to search for a "construction contract attorney near me."
So can you cancel a construction contract? The short answer is yes, but it can be tricky. It's best to hire a lawyer for construction contracts to help you navigate the details and help reduce the risk of having any legal issues.

Leave the Complexities to Your Muskegon Construction Contract Lawyers
If you have questions about construction contracts, feel free to contact our Muskegon construction contract attorneys. Bowen Law helps you negotiate your way through all of the potential dangers and issues associated with construction contracts, so you can rest easy knowing all of your legal rights are protected.