Many entrepreneurs prefer renting a commercial property to operate their businesses because they require less capital than buying it. A commercial lease is a common type of lease typically employed by landlords to rent out a property intended for business purposes, such as retail or office use, to a tenant. Generally, commercial lease agreements involve legal procedures, which can be difficult to navigate without an in-depth understanding of the law.
Though it is possible to lease a commercial property without the legal assistance of a lawyer, hiring one makes the lease process easier for you. In this article, you'll learn how a commercial lease lawyer can help you with lease agreements. 
4 Reasons to Hire a Commercial Lease Lawyer
Though Michigan law does not require you to seek assistance from an attorney for lease agreements, having one on your side certainly has its advantages. A commercial lease lawyer will:
Help You Understand Complex Laws
Leasing a property involves a legal agreement between the tenant and the landlord. Commercial lease agreements can be complicated, especially if you don't have sufficient knowledge of your rights as a landlord or tenant under the law. A commercial lease lawyer can help you understand the terms of the contract, provide legal advice for you to make sensible decisions, and guarantee the legality of the lease.
Protect Your Interests
A commercial lease lawyer's main responsibility is to protect your interests as their client, and they do so by ensuring that the lease agreement is fair for both parties. In case of any arising issues concerning the leased property or if one party fails to uphold their end of the contract, a commercial lease attorney can provide you with legal assistance during settlements and represent you in court if necessary.
Negotiate Terms on Your Behalf
Because of their expertise, commercial lease attorneys are in the best position to effectively negotiate and secure favorable terms for you. A commercial lease lawyer can help you evaluate the lease's conditions and make sure that your needs are met. If there are unreasonable terms in your lease contract that need adjustments, having a commercial lease legal expert who can clearly communicate your concern and negotiate on your behalf is significantly beneficial.
Save You Time
Most landlords and tenants don't have time to study the legalities involved in lease agreements, and some don't even know the zoning laws that govern them. Instead of preparing and reviewing the lease contracts on your own, hiring a legal expert who can manage them is preferable. A commercial lease lawyer will handle all the necessary documentation for the lease, saving you time and resources.
How to Prepare for the First Meeting
The initial meeting with your lawyer can be nerve-wracking, especially if it's your first time hiring one. Here are some guidelines to help you get the most out of your consultation:
1. Gather All Relevant Documents
It is not certain whether the lawyer will look at your documents during your first consultation until you have entered into a representation agreement. However, it is still best to gather and organize the relevant documents necessary for your case. For instance, in lease agreements, you may need a certificate of title or property deeds, which details the property being leased. Having these documents ready allows you to provide crucial information to the commercial lease lawyer when needed, especially when drafting the lease contract.
2. Prepare a List of Your Questions
Once you have prepared all the relevant documents, prepare the questions you want to ask the lawyer. For example, you can ask the commercial lease lawyer about the fee structure, whether you will need to pay a flat fee, hourly fee, monthly fee, or retainer fee, including other costs. You can also inquire about the processes of how to proceed with the lease. Make sure you write down all your questions so you won't forget to ask them during the consultation.
3. Have a Clear Understanding of Your Objectives
Lease agreements are not exactly the same. In fact, there are various types of commercial leases, with each having a different arrangement. A single net lease, for example, requires the tenant to pay the rent, including the property taxes, while the landlord pays for the insurance and maintenance. On the other hand, the tenant is responsible for paying the rent and all other expenses in a triple-net (NNN) lease. Considering this, make sure you know your objectives and discuss them with your lawyer. A commercial lease lawyer can help you make the right choices concerning the lease.
4. Clarify Your Next Step
Once you have decided to hire the lawyer after your consultation, clarify your next step. Typically in lease agreements, a commercial lease lawyer will draft the contract for you based on your desired terms and objectives. The lawyer may need additional information regarding the lease, so be sure to keep in touch regularly. Inquire about the expected time of completion and confirm the schedule of your next meeting.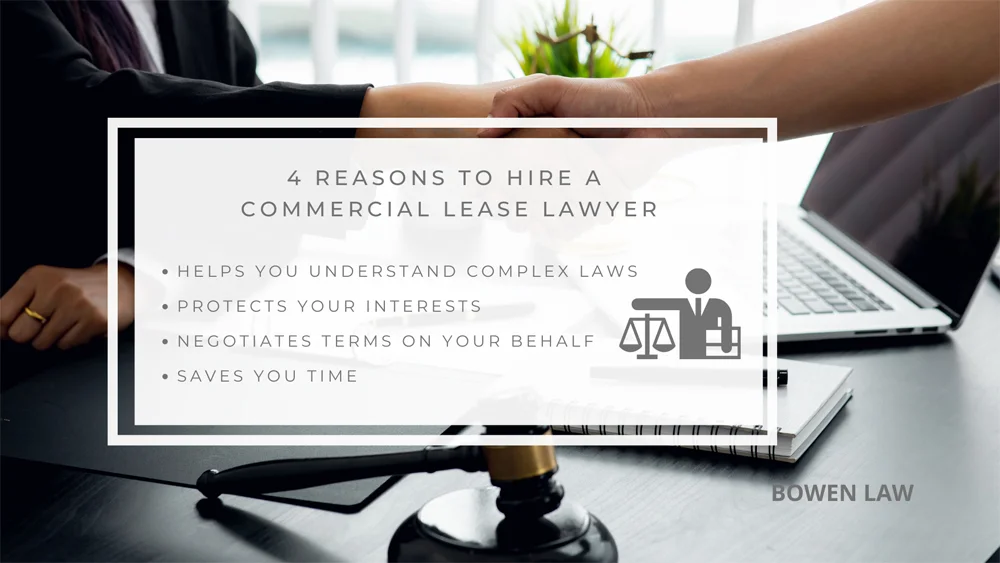 Make the Right Move
Having a skilled lawyer is beneficial when negotiating a lease. From drafting to signing lease contracts, a commercial lease attorney can assist you through the entire leasing process.
We at Bowen Law have experienced commercial lease lawyers that can best handle lease agreements for you. We guarantee that your commercial lease transaction will be carried out smoothly and in compliance with Michigan laws. Contact us now at (231)-726-4484. You can also reach us here.