The construction industry is a critical driver of economic growth and infrastructure development. It encompasses a wide range of activities, from building residential and commercial structures to infrastructure projects like roads, bridges, and utilities. While the industry plays a pivotal role in shaping the modern world, it also presents inherent safety concerns that demand careful attention. Common construction risks include:
Physical hazards like working at heights and handling hazardous materials.

Fall risks from elevated surfaces.

Dangers associated with heavy equipment operation.

Potential structural collapse.

Electrical hazards from improper wiring.

Chemical exposure to harmful substances. 
To address these risks, the construction accident laws in Michigan offer a comprehensive set of regulations and guidelines that help prevent accidents, ensure timely responses to incidents, and facilitate fair compensation for those affected. In this article, our knowledgeable Muskegon construction attorney will explain the Michigan construction laws in detail, including the legal procedures for securing benefits and pursuing claims in the aftermath of construction accidents.
Michigan Laws and Regulations for Construction Safety
The Occupational Safety and Health Administration (OSHA) was established by the federal government to set and enforce safety regulations that protect workers from hazards in the workplace. It develops and enforces nationwide standards, conducts inspections, and issues citations for non-compliance. The OSHA standards cover areas such as fall protection, hazardous materials, machinery safety, and more. It also provides training, resources, and educational materials to employers and employees.
In Michigan, the Michigan Occupational Safety and Health Act (MIOSHA) was created to mirror OSHA functions within the state's jurisdiction. The MIOSHA is a legislation established in 1974 with the goal of ensuring workplace safety and health within the state of Michigan. While the MIOSHA aligns with many aspects of the federal OSHA standards, it also introduces certain regulations and guidelines tailored to Michigan's specific industries and hazards, including the Michigan Construction Safety and Health Standard. For instance, MIOSHA Part 9, Excavation, Trenching, and Shoring standards, outlines detailed requirements for trenching and excavation safety. These standards help mitigate the risks associated with trench collapses and provide guidelines for proper shoring and sloping techniques. 
The Michigan Occupational Safety and Health Administration (MIOSHA) is the state agency responsible for implementing and enforcing the MIOSHA standards. The MIOSHA operates under the Michigan Department of Labor and Economic Opportunity (LEO).
Employer Responsibilities 
Under the MIOSHA, employers are entrusted with a range of responsibilities aimed at ensuring the safety and well-being of their employees. Employers are required to:
Provide employees with a workplace free from hazards capable of causing harm.

Comply with MIOSHA rules, standards, and orders.

Communicate employees' rights and obligations under MIOSHA through notices and other effective means.

Provide personal protective equipment (PPE).
Liability and Compensation in Construction Accidents
Workers' Compensation Benefits for Injured Workers
Michigan, like most states, has a workers' compensation system in place. The Michigan Workers' Disability Compensation Act provides a framework for compensating employees who sustain injuries or illnesses arising from and during employment. This legislation aims to provide financial support and medical benefits to workers who are injured on the job, thereby offering a safety net for both employees and employers in cases of workplace accidents or occupational diseases.
Workers' compensation benefits in Michigan include:
Medical Expenses.

Injured workers are entitled to have their reasonable and necessary medical treatment expenses covered, including doctor visits, surgeries, medications, and rehabilitation.

Lost Wages.

If an employee's injury leads to time away from work, workers' compensation benefits provide a portion of their lost wages to help alleviate the financial impact.

Vocational Rehabilitation.

In cases where an injury affects an employee's ability to return to their previous job, vocational rehabilitation services may be provided to assist the worker in re-entering the workforce or pursuing alternative employment opportunities.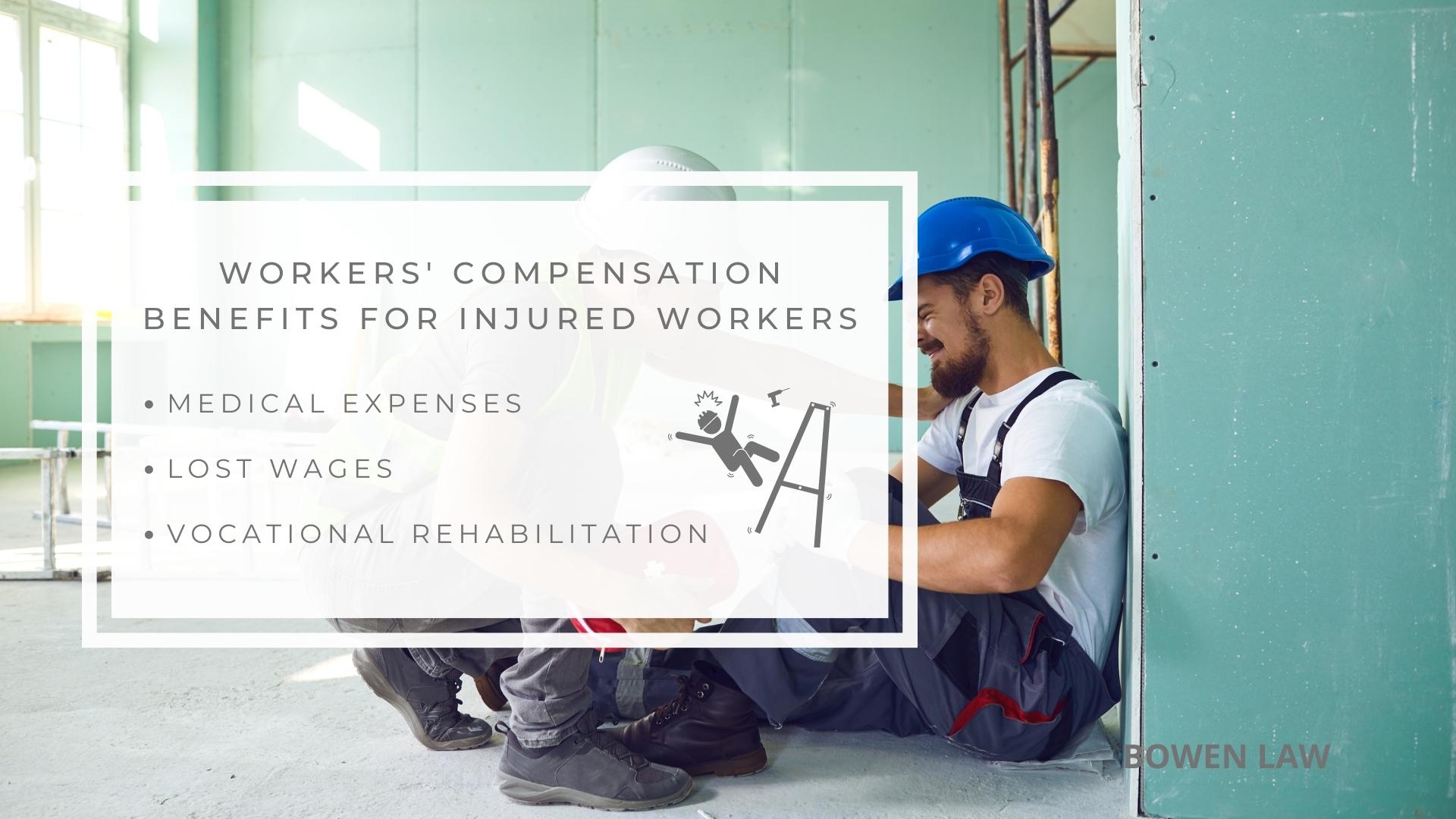 Understanding Third-Party Liability
In some cases, a construction accident might involve a third party, someone other than the employer or fellow employee, who was responsible for the accident. If a third party's negligence contributed to the accident, the injured worker may be able to pursue a third-party liability claim.
While workers' compensation benefits cover medical expenses and a portion of lost wages, third-party liability claims provide an opportunity for the injured worker to seek a wider range of compensation, including pain and suffering, emotional distress, loss of consortium, and other non-economic damages. For a third-party liability claim to be successful, the injured worker must demonstrate that the third party's negligence, wrongful actions, or failure to fulfill a duty of care directly contributed to the accident.
Pursuing a third-party liability claim does not typically affect the injured worker's right to receive workers' compensation benefits. Workers' compensation operates on a no-fault basis, meaning that employees are entitled to benefits regardless of who is at fault for the accident. 
Filing a Construction Accident Lawsuit in Michigan
Filing a construction accident lawsuit in Michigan involves several important factors to consider to ensure the best chance of success and fair compensation. Here are some of them:
Statute of Limitations 
The statute of limitations imposes a time limit within which a lawsuit must be filed after the accident occurs. In Michigan, the statute of limitations for personal injury cases, including construction accidents, is generally three years from the date of the accident. Failing to file within this time frame could result in losing the right to seek compensation.
Gathering Evidence and Building a Strong Case
Building a strong construction accident case requires comprehensive evidence gathering. The process involves collecting various forms of evidence, such as:
Accident reports and documentation from the scene.

Medical records detailing the extent of injuries and treatment.

Photographs or videos of the accident scene and hazardous conditions.

Witness statements from co-workers, bystanders, or experts.

Employment records and contracts to establish relationships and responsibilities.

Maintenance and inspection records related to equipment or machinery involved.

Expert opinions and analyses regarding safety standards and negligence.
Proper documentation of the accident and injuries will significantly contribute to establishing liability and the extent of damages.
Hiring an Experienced Construction Accident Attorney
Given the complexity of construction accident cases, hiring an experienced attorney can provide invaluable guidance and support throughout the process. A skilled Muskegon construction attorney expert in Michigan construction accident laws, regulations, and legal precedents can help you assess the strength of your claim, negotiate with insurance companies, resolve disputes, and, if necessary, represent you in court. 
Keep Your Construction Business Protected
Construction accidents can have far-reaching consequences, affecting not only the injured employees but also the reputation and financial stability of construction businesses. As an employer, navigating the legal intricacies that arise from such incidents can be overwhelming, and that's where our experienced team comes in.
Bowen Law specializes in providing tailored legal solutions to construction-related cases. Our seasoned Muskegon construction attorneys understand the dynamics of the construction industry and are well-versed in Michigan construction accident laws and regulations. We can guide you through the complex landscape of workers' compensation, liability, and insurance matters, helping you mitigate risks and protect your business interests. Contact us today at (231)-726-4484 or here to schedule a consultation.