At first glance, a business contract might not sound too different from other contract types. Contracts are written commitments in which one party offers a product or service to another in exchange for a reward.
However, when drafting business contracts, there are a few factors to consider. Because these contracts are the foundation of all business operations, you have to include particular clauses when drafting these agreements.
In Muskegon, these clauses are essential. Without these clauses, both parties may be vulnerable to unnecessary risks since they may lack the legal authority to resolve certain matters if disputes emerge.
In this article, we will go over the importance of a business contract, the key clauses you need to have, and whether you should use an online template or not.
Table of Contents
What Is the Purpose of a Business Contract?
A business contract exists to establish a business relationship between two parties and specify what obligations and responsibilities they owe to each other.
They protect and mitigate the risk involved in a business partnership or operation. Without a contract, you could find yourself in a problematic situation should the other party refuse to uphold their end of the bargain. Legal contracts keep all parties in line and responsible.
But a contract is only as good as its terms specified. These terms can include duration, the parties to the deal, confidentiality clauses, rendered services, and resolving disputes (should they happen).
Remember, a contract is a guideline for business operations and a failsafe in case of issues.
Common Contract Clauses
Since every company is unique, your requirements may differ depending on your region, industry, and business strategy. However, because your contracts determine the relationships between your company and its employees, clients, and vendors, they must be designed to protect your company and mitigate risk.
The following are some usual clauses seen in business contracts in Muskegon:
Severability Clause
This clause dictates if any of the provisions in the contract are illegal, invalid, or enforceable. The clause applies to current and also future changes. If that were to happen, this clause eliminates the offending provision of the contract without affecting the rest of it.
Governing/Jurisdiction Clause
Jurisdiction clauses determine under which court of law disputes for the contract fall. The chosen court will handle all legal procedures – it could be a Muskegon court or another national or federal body. They can be exclusive to one court or non-exclusive.
Force Majeure Clause
A force majeure clause relieves a party from any obligation or liability if it becomes impractical, illegal, or impossible to uphold their end of the contract. These could be natural disasters, war, or "acts of God."
Limitations on Liability Clause
As the name implies, a limitation on the liability clause restricts the amount and form of compensation that a party would pay in the case of losses. This clause protects you from excessive losses due to legal claims.
Confidentiality Clause
What is a confidentiality clause? The confidentiality clause is one of the most common clauses and protects the information of one or both parties. This clause could include anything from trade secrets to personal information and any other type of information shared between the two parties. The clause is crucial to specify what is considered confidential under this clause.
Damages Clause
A damages clause, also called a liquidated damages clause, is a provision used to specify how much a party will pay for breaching a contract, or failing to perform a designated duty. However, these types of clauses are more commonly found in construction contracts.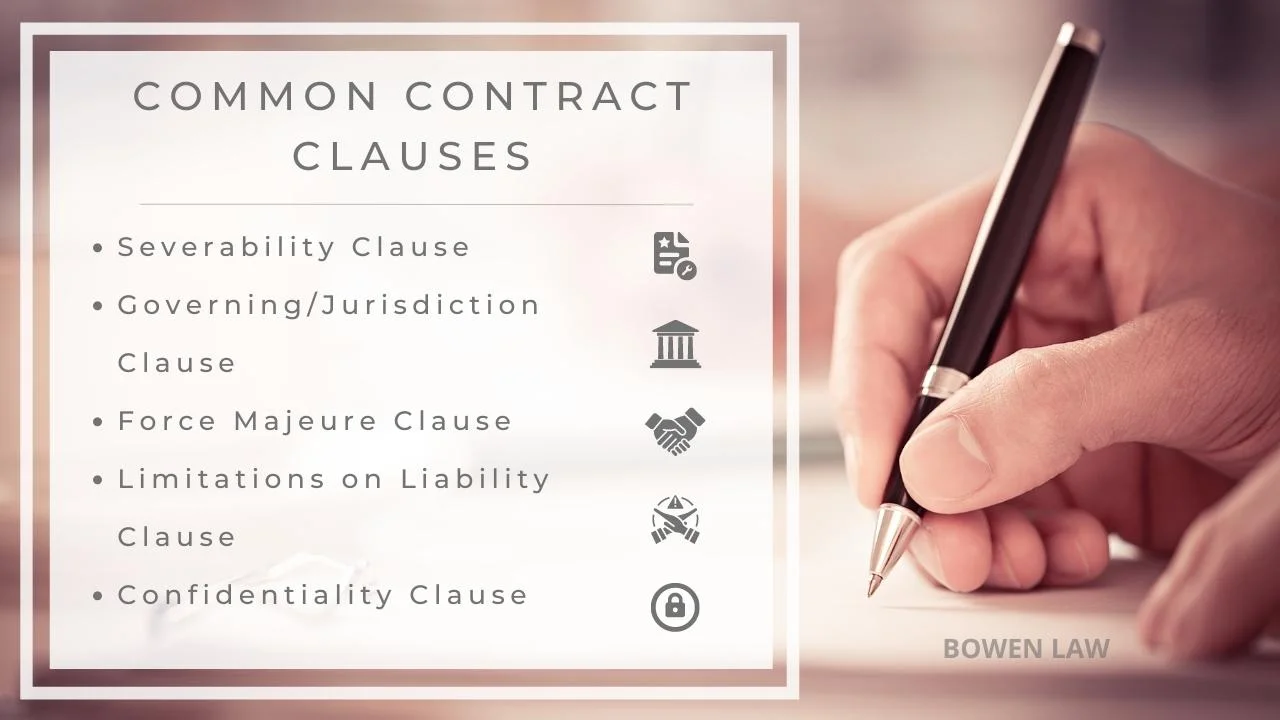 Should I Use a Business Contract Template?
An online template can serve as a decent reference point when drafting your business contract. However, you should not just take a template and run with it for your business agreement.
Each situation is different, and you will want to carefully customize your contract to ensure that it minimizes your risks and protects your business interests.
Furthermore, you can not be sure who drafted the contract, and whether it considers the local laws of Muskegon. 
Online templates are good to get a general idea of what a business contract can look like, but it is best to seek the guidance of a contract lawyer. 
Business Contract Lawyer in Muskegon
Contracts, whether verbal or written, govern and define corporate relationships. Careful planning and comprehensive drafting will fully and clearly outline the rights and obligations of the parties. At Bowen Law, we provide reliable and efficient counsel to clients in legal matters in the business context. Contact a Muskegon business attorney today to secure a business contract that proctors all your business interests!