Construction contracts are complicated, and force majeure in construction contracts can make it seem even more complex. This article will help you understand force majeure provisions in contracts, how they work in construction contracts, and what you can do if your project is affected. Everything below comes straight from our construction contract attorney.
What Is Force Majeure in Construction Contracts?
Force majeure translates to "superior force." It is a legal term used to describe extraordinary events beyond the control of either party in a contract. These events can include natural disasters like floods or earthquakes, as well as political upheavals or acts of war. Events under this clause can even list strikes, riots, etc.
When Is Force Majeure Needed?
Suppose any of the events mentioned above happens during your project, and it interrupts work on the project for more than 30 days (or 10% of the time allotted for completion). In that case, you have grounds for a claim against your contractor or contractee under force majeure.
What Instances Constitute Force Majeure?
Force majeure can arise from a variety of things. Some of these include:
Natural disasters:

Floods

Earthquakes

Hurricanes

Fires

War or acts of terrorism performed by third parties that disrupt your project and prevent your contractor from performing its obligations

Governmental actions, such as strikes and other events imposed by the government

Lapse of contracts because of a breach or violation by the contractor, including nonpayment, a material breach in performance, or termination of the construction contract by the contractor
Force Majeure Requirements in Construction Contracts
The force majeure provisions in construction contracts are written to make sure that the parties are protected from interruption of the work by events that are outside of their control. Below, you'll find a list of what force majeure in construction contracts should cover:
Force majeure definition

–

You should include a definition of force majeure that clearly outlines what situations will be accepted as force majeure and which ones will not. The more specific the definition, the better. Anyone can include a storm, but that doesn't mean a weak one constitutes direct contract termination. The contract should have parameters detailing the storm's intensity, duration, and other key factors.

Actions that the contractor and contractee will take in the event of force majeure

– Your contract should outline what actions will be taken by both parties if force majeure occurs. This is particularly important for your contractor because the contract should provide them guidelines to follow if the work is suspended by force majeure. 

Consequences to the performance of the contract

– Your contract should describe the consequences of a contractor's failure to perform while a force majeure event is occurring. These consequences should be spelled out fairly and include provisions for compensation if it cannot be provided within a reasonable period of time.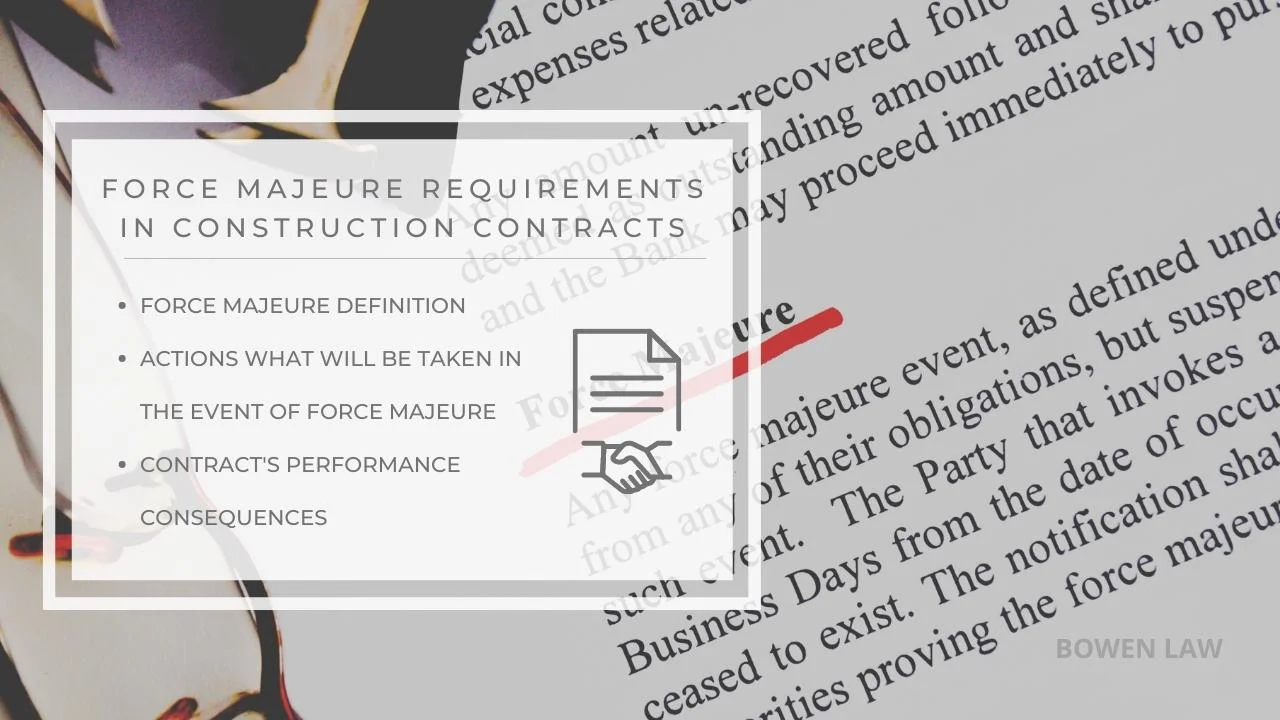 Force Majeure Michigan Law in Construction Contracts
A force majeure clause within a construction contract is a common clause that contracts rarely go without. This clause allows both parties to the contract to be excused from their obligations if they cannot fulfill them due to an extraordinary event.
The language of this clause can vary from contract to contract, but will overall explain what constitutes an extraordinary event and how long either party has to wait before it can be excused from fulfilling its obligations under the contract. The length of time may vary depending on the contract type (for instance, a construction contract may have a shorter wait time than a business partnership).
Construction Contract Force Majeure Clause Examples
Below are two examples of force majeure clause construction contracts. The first force majeure Michigan law is a fairly standard clause, and the second one is a little broader in the circumstances that it covers.
Example #1:

 

Force Majeure Clause A – "Party A agrees to be excused from any and all obligations under this contract if any event beyond its control prevents it from fulfilling such obligations for a period of more than [X] days."

Example #2

: 

Broad Force Majeure Clause B – "Party A agrees to be excused from any and all obligations under this contract in case of war, terrorism, disaster or riot as declared by the government of [COUNTRY], or national emergency as declared by the United States President. In such an instance, Party A will fulfill its obligations under this contract as soon as it is able to do so."
Your Muskegon Construction Contract Attorneys Are Here to Help
As you can see, force majeure in construction contracts is a complex area of law. It's important to understand your rights as a contractor and how they apply to your specific situation, so you can make the right decisions for yourself and your clients. If you have any questions about this article or need help understanding how force majeure applies in your situation, please don't hesitate to contact us. We're happy to help!