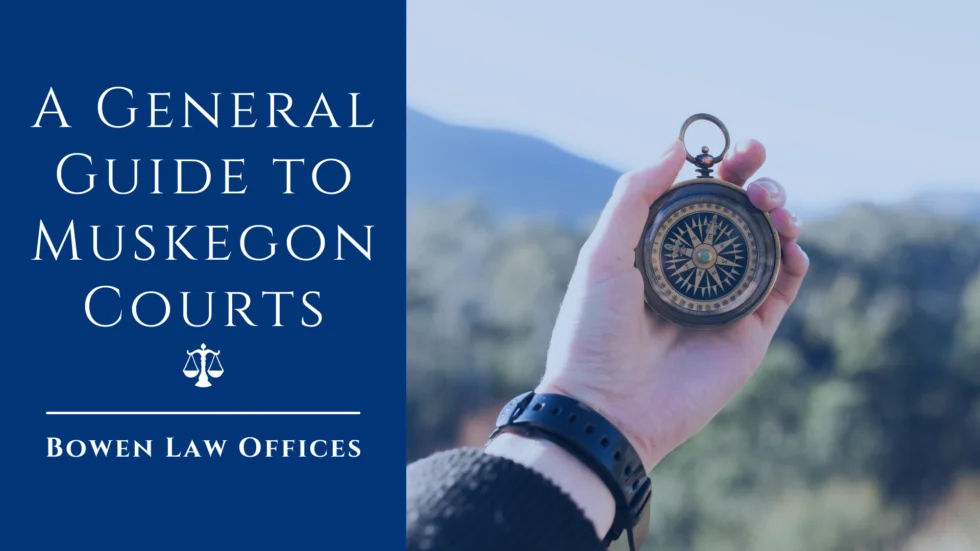 To those who are not familiar with the court system, it can be a place of vast confusion. Most people in Muskegon know where the Courthouse is located, but you might be surprised to learn that there is more than one "court" in the Michael E. Kobza Hall of Justice.
Here's a general overview of Muskegon's different courts and which cases end up in which court.
Muskegon 14th Circuit Court
Muskegon's 14th Circuit Court handles more serious cases, including:
Civil cases seeking damages greater than $25,0000
Personal Injury cases
All Federal criminal cases
Criminal offenses punishable by more than one year's imprisonment
Personal protection orders
Family Cases (custody, divorce, paternity, child support, etc.)
Appeals from District Court
Muskegon 60th District Court
Muskegon's 60th District Court handles less serious cases, including the following:
Civil Lawsuits involving $25,000 or less
Adult misdemeanors punishable by up to one year's imprisonment
Civil infractions or traffic violations
Landlord-Tenant disputes, including evictions
Land contract forfeitures
Small claims (civil suits involving $6,000 or less)
Muskegon Small Claims Court
Small claims court is a division of the 60th District Court. It was established in 1968 for people to use without the aid of attorneys. People may seek the counsel of an attorney before or after the hearing, but attorneys are not allowed to represent individuals in Small Claims Court. Small Claims Court handles disputes involving $6,000 or less. It's important to know that a judge's ruling in Small Claims Court is final and cannot be appealed.
Muskegon Probate Court
Probate Court handles the transfer of property or assets of a person who has died, or who has become incapacitated.
Decedents' Estates
When a person dies with property in their name, that property needs to be transferred to their survivors. A deceased person cannot complete a transaction, so the transfer of property is completed through probate court.
Guardianship and Conservatorship for Adults
A guardian takes care of personal needs. A conservator takes care of property. An adult is "incapacitated" if they lose the ability to care for themselves or their property. When this happens, the probate court appoints a Guardian, Conservator, or both.  One person can be both the guardian and the conservator for an incapacitated adult.
Guardianship and Conservatorship for Minors
Similar to an adult, a guardian takes care of personal needs. A conservator takes care of property. In the case of a minor, a guardian will be appointed if the parents are unable to care for the child. Conservatorship for a minor is typically only needed if the child receives a large sum of money. This might occur in the case of a personal injury or inheritance. Normally the parent is appointed the conservator.
Muskegon Family Court
Muskegon Family Court, established in 1998, is a division of Circuit Court and as you might assume, deals with family matters. These include:
Adoption
Alimony
Child abuse and neglect
Child custody
Child support
Divorces
Domestic violence
Juvenile delinquency
Parenting time