A Muskegon waterfront property is a great investment, whether you intend to rent it out or use it as a vacation home. Since it's a valuable asset with often lucrative returns, it's best to take the necessary actions to protect it. Purchasing insurance and securing your property are some of the ways you can take to safeguard it against damage and loss. 
Waterfront Properties Explained
What is waterfront property? It's a piece of land that is either adjacent to or surrounded by bodies of water. It may be located in coastal areas or on the shores of lakes and rivers. 
While waking up to a resort-feels paradise seems like a dream, it can also come with a hefty price tag. In addition to paying the property cost, you'll need to consider the extra insurance costs, special maintenance against floods and emergencies, and many others. In exchange, you get a property with higher rental and investment potential.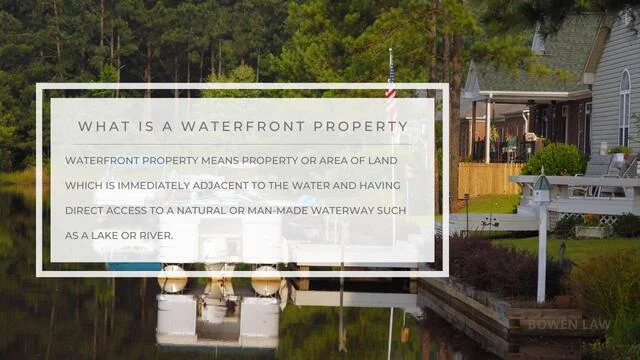 What Is Waterfront Property Law?
This section will answer your questions on what is waterfront property law. It's the law that protects and gives legal rights to waterfront property owners. There are two types of water rights:
Riparian rights – given to waterfront property owners to use and access flowing bodies of water such as streams and rivers.

Littoral rights – meant for waterfront property owners near lakes, oceans, beaches, and seas.
According to Michigan law, if your property is on the coast of any of the Great Lakes, your ownership is only up to the water's edge. The remainder of the beachfront until the high water marks is state property and is open to the public for walking.
Likewise, if your property is on an inland lake, stream, or river, you can have private ownership and exclusive use of the shore and bottomlands. However, your property lines do not extend straight into the lake. Experienced surveyors will be more familiar with the proper lake bottomland division, especially if other property owners share it. 
3 Ways You Can Protect Your Investment in Muskegon Waterfront Properties
1. Flood Insurance
Aside from the standard homeowners' insurance premium, insurance companies often offer a separate flood insurance policy for waterfront properties. Purchasing flood insurance will make you eligible for federal disaster assistance and cover any flood-related damage to your property. Under Michigan law, mortgage lenders can require you to purchase flood insurance based on your property's location.
For homes or properties in the Special Flood Hazard Area (SFHA), flood insurance is required along with the home mortgage.

If the property resides in a moderate-to-low risk area, you can take advantage of the Preferred Risk Policy, which has the lowest premiums available.
2. Liability Insurance
Liability insurance protects you against claims for injuries, accidents, or deaths on your property. A good liability insurance policy will provide you with peace of mind and the following benefits:
If you are negligent and liable for an accident, injury, or death on your property, you may file an insurance claim.

If you win the case, you can use your insurance claim to pay attorney fees and other legal expenses.
Most liability insurance policies exclude accidents involving watercraft, boats, and other water or snow vehicles. It's best to inquire with your insurance company about your liability insurance coverage for waterfront properties.
3. Make Your Waterfront Property Safe
Securing a second home or vacation home insurance for your waterfront property is necessary protection you wouldn't want to miss. While its coverage is nearly identical to your homeowner's insurance policy, you may be surprised to learn that it costs more. Here are a few reasons why:
Unoccupied homes are at a higher risk of theft, fire, and other hazards.

Properties near the Great Lakes, inland lakes, and rivers are more prone to high water levels and flooding.
Fortunately, lowering your property's risk for theft, flooding, and other potential damage could help reduce your insurance costs. Here are some things you can do:
Build your house away from the shore

Lift your home above the minimum base flood elevation (BFE)

Install a central alarm system

Install storm shutters and use durable materials to make your home more disaster-proof
Consult With Muskegon Lawyers for the Best Protection
Protecting your waterfront property can be complicated, especially when local waterfront property laws are unfamiliar. Fortunately, our knowledgeable Muskegon lawyers at Bowen Law can help you understand your legal rights and options. We can also advise you on the best type of protection for your Muskegon waterfront property investment. For assistance, you can reach us at Call Bowen Law at (231) 726-4484 or contact us here.