There are several things to consider when starting a business. As an aspiring business owner, one crucial thing you are required to do is register the company in the state where it operates. In this article, we'll guide you on how to register a business in Michigan.
How to Register a Business in Michigan 
Start your company by choosing a business name, and ensure that your desired business name is distinct from other business entities.
How to See If the Business Name Is Taken?
You can follow these steps to know whether your desired business name has already been used by a business entity in Michigan or not.
Visit the Michigan Business Entity Search database at:

https://cofs.lara.state.mi.us/SearchApi/Search/Search

.

Choose the "Search by entity name" option.

Enter your desired business name in the "Entity name" box.

Select either "Begin with," "Exact match," "Full text," or "Soundex" as your preferred search type.

Click "Search."
Upon clicking search, no results will show up if your business name is unique and available for use. Otherwise, you will see a list of registered business entities in Michigan using the same words you entered as your desired business name. If your business name is not available, you will need to opt for an alternative business name. Furthermore, there are words and abbreviations that you cannot include in your business name as restricted by Michigan law. 
Where to Register
After checking and choosing a business name, you can proceed with your business registration. For Limited Liability Company (LLC), you can file your Articles of Organization online, in person, or through the mail. 
For online registration, follow these steps:
Visit the Corporations Online Filing System at

https://cofs.lara.state.mi.us/CorpWeb/LoginSystem/ListNewFilings.aspx?FilingMethod=I

. 

Click the link "700 – Articles of Organization."

Enter your business name in Article I. Do not forget to include the abbreviation "LLC."

Enter your Agent's Name and Address in Article IV. (A

resident agent

is an individual or corporation residing in Michigan that receives the legal documents on behalf of your business. You can enter your name, the name of a friend, a family member, or a registered agent service as your agent.)

For your signature, click "Add new entry to this list." Enter your name as Organizer. Choose "Accept." Then click "Add" to attach your electronic signature.

Enter your contact information.

Choose either email or mail as the delivery method for statutory notice. 

Select your preferred level of service to review your application.

Lastly, click on "Review" to finalize your application. 
After submitting your application, you will be directed to a payment page for the filing fee payment. You will be contacted if there are any problems with your application.
Sample Registration Form
For mail or in-person registration, you can utilize the online Articles of Organization template provided on the State of Michigan website. Here is some information in the Articles of Organization form that must be competed:
Name: NAME OF THE BUSINESS ORGANIZER
Address: ADDRESS OF THE BUSINESS ORGANIZER
ZIP Code: ZIP CODE OF THE AREA
Article I
The name of the limited liability company: NAME OF THE BUSINESS
Article IV
Resident Agent: NAME OF THE RESIDENT AGENT
Address: ADDRESS OF THE RESIDENT AGENT  
ZIP Code: ZIP CODE OF THE AREA 
Signed this DATE day of MONTH, YEAR
By SIGNATURE OF ORGANIZER
       PRINT NAME OF ORGANIZER
You can submit your documents in person or through the mail with all required filing fees at the Michigan Department of Licensing and Regulatory Affairs, Corporations, Securities, and Commercial Licensing Bureau, Corporations Division, P.O. Box 30054, 2407 N. Grand River Ave. Lansing, MI 48909.
How Much Does It Cost to Register a Business in Michigan?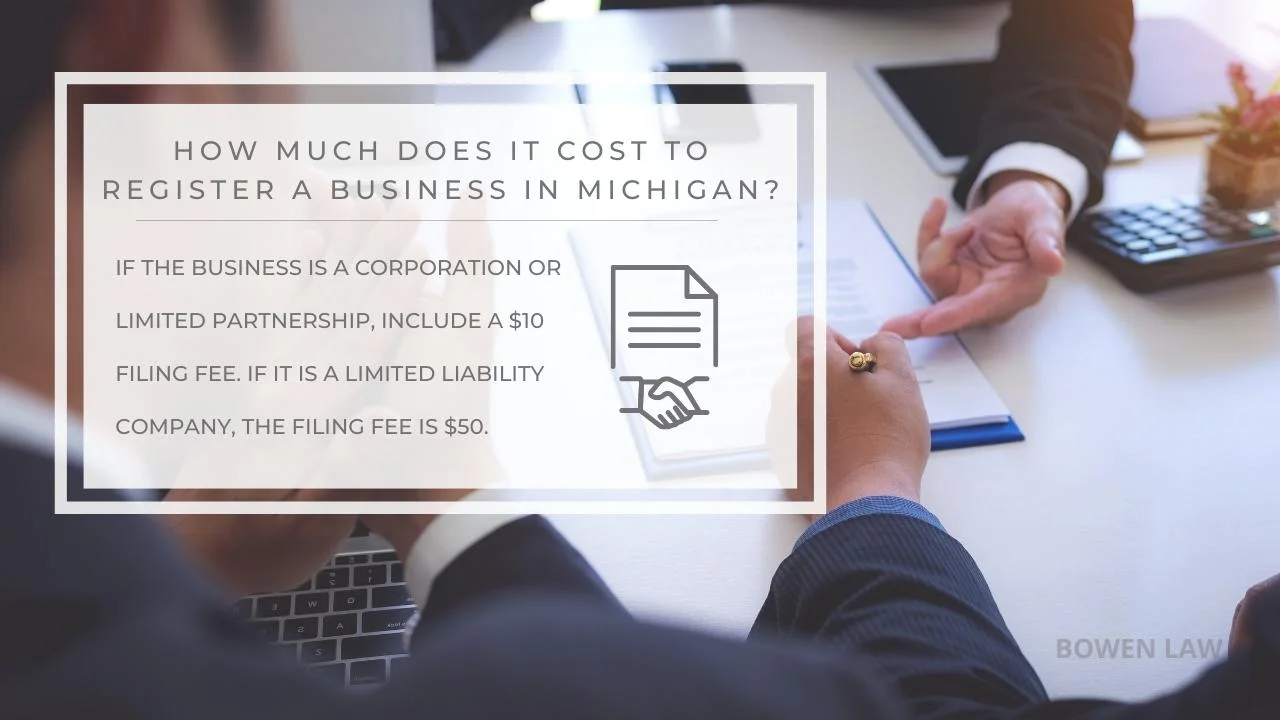 Typically, business registration in Michigan costs a $50.00 filing fee. There are expedited services available, for an additional fee, that you can choose to accelerate your document review. These expedited services include the following:
24-Hour Review – $50.00

Same Day Review – $100.00

2-Hour Review – $500.00

1-Hour Review – $1000.00
Is There an Annual Fee?
The State of Michigan requires Michigan businesses to file an annual statement to the Michigan Department of Licensing and Regulatory Affairs (LARA). The annual report comes with a $25.00 filing fee. A penalty fee of $10.00 will be charged for every subsequent month of late filing. 
What Is an "Assumed Name"? And How Is It Helpful?
An assumed name, also known as "doing business as" (DBA), is another name you can use in your business operation. A DBA, however, is not regarded as the legal name of your business. Furthermore, you must register a DBA with the county registrar where your business is situated if you plan to utilize one.
A DBA can be beneficial for sole proprietorship and general partnership businesses. Instead of using your name as the name of your business, you can use a DBA to make it more marketable. A DBA can also be advantageous for LLCs and corporations, particularly in operating other chain businesses.
Why Does a Business Search Need to Be Done First?
A trademark is a distinctive intellectual property owned by a business, such as a label or a name. Federal law forbids you from utilizing a trademark belonging to an established business organization to prevent consumer confusion.
Doing a business name search before business registration is a practical way to create a business name that is distinguishable from other company names. A unique business name will prevent you from facing trademark and copyright legal issues.
Getting An Employer Identification Number
An Employer Identification Number (EIN) is a permanent number assigned to your business by the IRS. It's needed for a variety of reasons, like opening a business bank account or applying for business licenses. 
The good news is that EINs are free and easy to get. You can apply online and will receive your EIN immediately upon verification. You can learn more here, and apply for an EIN online here.
Who Should I Call if I Need Help?
Starting a business is never easy. Hiring a business legal expert can help you prepare the appropriate documents required to operate your business. Bowen Law is here to assist you! Our team of Muskegon business lawyers can provide you with legal support in starting your company. Call Bowen Law now at (231) 726-4484! You can also reach us here.