Have you ever experienced the distress of being forced to move out from a rental property abruptly, with no warning or legal justification? Many tenants find themselves in this unfortunate situation, facing the fear and uncertainty of losing their homes due to the illegal practice of landlord lockouts.
Landlord lockouts are considered a breach of tenant rights, and there are legal measures in Michigan to prevent such actions, ensuring tenants can live in their rented homes without the fear of arbitrary eviction or unauthorized denial of access.
In this article, our experienced Muskegon lawyer will discuss how tenants can protect themselves against illegal lockouts, as well as the legal eviction procedures landlords must follow to avoid serious legal consequences.
Definition of Landlord Lockout
A landlord lockout refers to the illegal act of a landlord preventing a tenant from accessing their rental property without following the proper legal eviction procedures. Landlord lockouts are strictly prohibited under Michigan law and can have severe consequences for landlords who engage in such unlawful practices.
According to the Michigan anti-lockout statute, a landlord lockout constitutes unlawful interference, which happens when a landlord does any of the following:
Uses force or threatens to use force

Takes, keeps, or damages the tenant's personal stuff

Changes or adds locks or security without giving keys to the tenant

Blocks the property so the tenant can't get in

Removes doors, windows, or locks

Stops essential services like heat, water, or electricity, either on purpose or by neglect

Makes a lot of noise, bad smells, or other annoyances
If you're a tenant experiencing any of these actions, you are entitled to seek legal remedies. A qualified lawyer expert in Michigan landlord & tenant law can help you understand your rights and pursue legal action against the landlord if necessary.
Legal Procedures for Eviction
When a tenant violates a lease agreement term, such as not paying rent or engaging in illegal activities, the landlord cannot take matters into their own hands and force the tenant to move out without going through the appropriate legal procedures. If you're a landlord and you wish to remove a tenant from the property, you must do the following: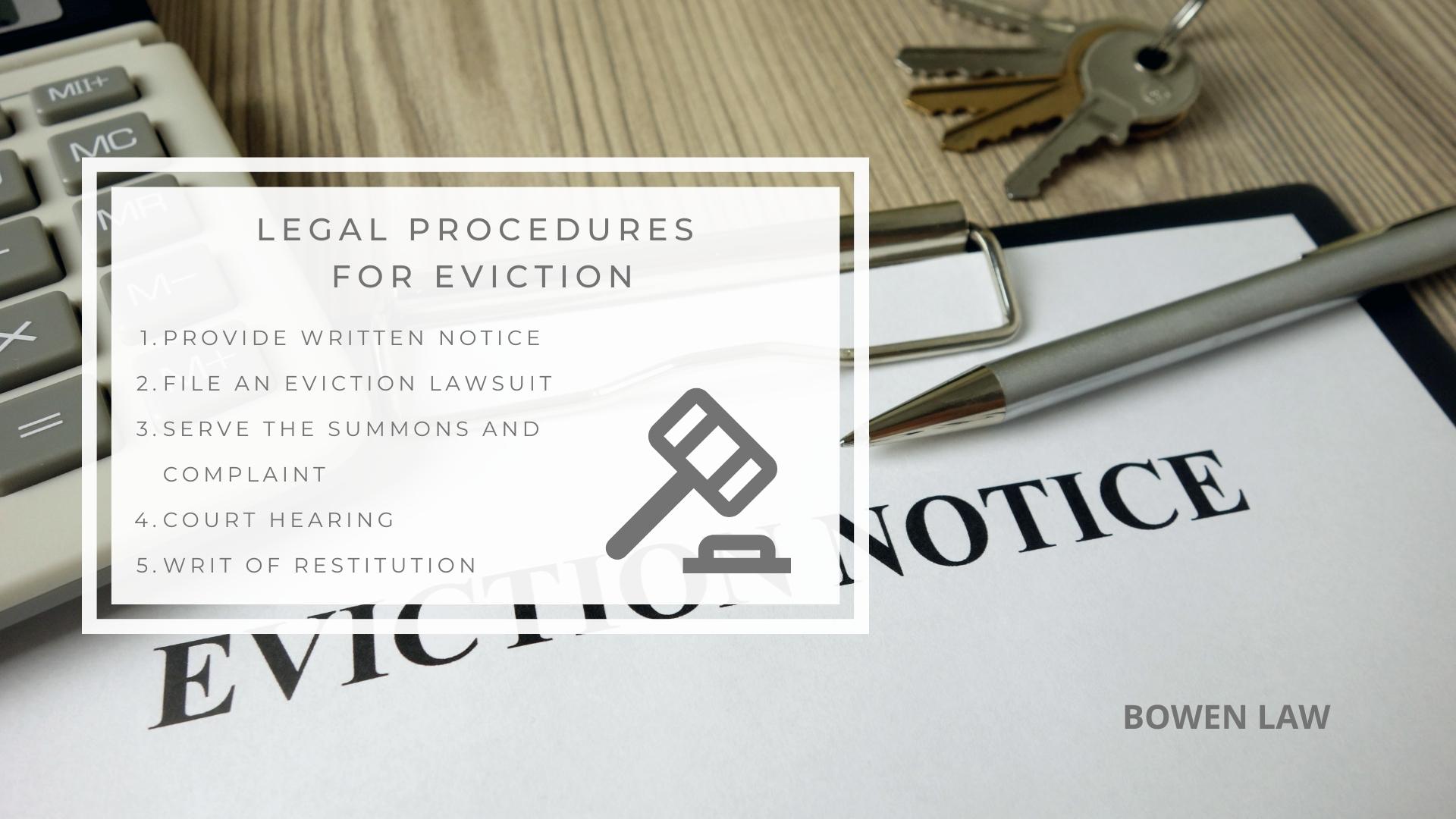 Provide Written Notice.

Before filing for eviction, you must provide the tenant with a written notice, which varies depending on the reason. For instance, if the tenant hasn't paid rent, you need to serve a 7-Day Notice to Quit, giving the tenant seven days to pay the overdue rent or move out.

File an Eviction Lawsuit.

If the tenant doesn't comply with the notice and remains on the property, you can file an eviction lawsuit in the district court where the property is located.

Serve the Summons and Complaint.

The court will issue a summons, which must be served to the tenant. The summons informs the tenant about the lawsuit and the date of the court hearing.

Court Hearing.

At the hearing, both you and the tenant present your cases, and the judge will make a decision. If the judge rules in your favor, you obtain a judgment for possession of the property.

Writ of Restitution.

Following a successful court ruling, you can request a writ of restitution from the court, which allows law enforcement officers to remove the tenant from the property if they do not leave voluntarily within a specified timeframe, usually ten days.
Any self-help measures, such as changing locks or shutting off utilities, can lead to legal repercussions. If you have questions about the eviction process or your rights and responsibilities, it's best to seek guidance from an experienced attorney specializing in Muskegon landlord & tenant law.
Consequences of Illegal Lockouts
Michigan landlord & tenant laws clearly outline the legal processes landlords must follow to evict a tenant, emphasizing the importance of due process and fair treatment. Landlords who engage in illegal lockouts can face significant legal consequences. According to Michigan law, landlords may be liable to pay the actual damages the tenant incurred or $200, whichever is greater, for every illegal lockout incident. In addition, the tenant who was forced out is given the right to regain possession of the property. 
The legal concept of "actual damages" in Michigan is quite comprehensive. In a notable case of Dunbar v Walker, the court awarded damages to the defendant, including compensation for emotional distress, lost wages, hotel expenses, and attorney fees, amounting to $11,623.78. The term "actual damages" was interpreted broadly to include not only economic losses but also non-economic and exemplary damages. The ruling underscores the importance of protecting tenants' rights and ensuring that landlords who engage in unlawful practices, such as lockouts, are held accountable for the full extent of the harm caused to the tenants.
Locked Out Illegally? We're Here to Help
When facing landlord lockouts, whether you're a tenant in distress or a landlord navigating a complex situation, having a skilled attorney by your side can make all the difference. Bowen Law is here to help, offering expert legal representation for tenants and landlords alike. 
If you're a tenant facing unjust lockouts, we can assist you in asserting your rights and holding landlords accountable for their actions. For landlords seeking to evict a tenant following legal procedures, we can guide you through the process, ensuring all necessary steps are taken.
Our seasoned attorneys are well-versed in Michigan landlord & tenant laws and are ready to be your legal allies in resolving these intricate matters. Call us now at (231)-726-4484 or contact us here to schedule a consultation.