Pursuing legal education doesn't need to be far from home. Sometimes your best option is 'just around the corner'. If you want to be one of Muskegon's top attorneys, you'll be glad to know there are several opportunities to study law throughout Michigan and only hours from Muskegon.
Below we have listed the top 5 law schools in Michigan. These institutions are part of the U.S. News & World Report (USNWR), regarded as one of the country's most influential law school listings. They all have outstanding academic performance, diverse communities, and distinct school cultures. 
Top 5 Law Schools In/Near Muskegon
1. University of Michigan Law School
The University of Michigan Law School is among the most elite and oldest law schools in the United States. It rivals Harvard and Stanford Law in academic and BAR performance. Michigan Law is currently at #10 in USNWR 2023 Best Law School rankings and has been consistently part of the top 14 for years. It set the bar high with an outstanding BAR passage rate of 96.55% for 2020. 
2. Wayne State University School of Law
The Wayne State University School of Law is another excellent institution for legal education. The USNWR ranked Wayne Law 58th in its Best Law School list and 17th in Part-time Law. As the only public law school in Detroit, Wayne Law's ranking was celebrated as the law school's biggest leap on the list over the last 5 years. They also have a remarkable 90.70% BAR passage rate for 2020.
3. Michigan State University College of Law
Founded in 1981, the Michigan State University College of Law is one of the oldest law schools in the country. The USNWR ranked MSU Law 91st in its 2023 Best Law Schools list. It provides over 140 elective courses, allowing you to explore legal education in almost every possible way. This first-rate school earned a stellar BAR passage rate of 78.57% for 2020.
4. University of Detroit Mercy School of Law
The University of Detroit Mercy School of Law is another top-notch law school. Located in the heart of the region's legal community, Detroit Mercy Law offers a wide range of opportunities and experiences for its law school students. As proof of its excellent education, they take pride that its 2021 graduating class has secured an overall employment rate of 90%. They also noted a satisfactory 2020 BAR passage rate at 72.63%. 
5. Western Michigan University Thomas M. Cooley Law School
Western Michigan University's Thomas M. Cooley Law School is one of the largest law schools in the United States. The Cooley Law School is among the most diverse law schools in the country, with over 41.5% 'students of color' from all around the world. Cooley Law School's core values are its commitment to diversity, inclusivity, and social equality. USNWR ranked Cooley Law #53-69 in Part-time Law Program.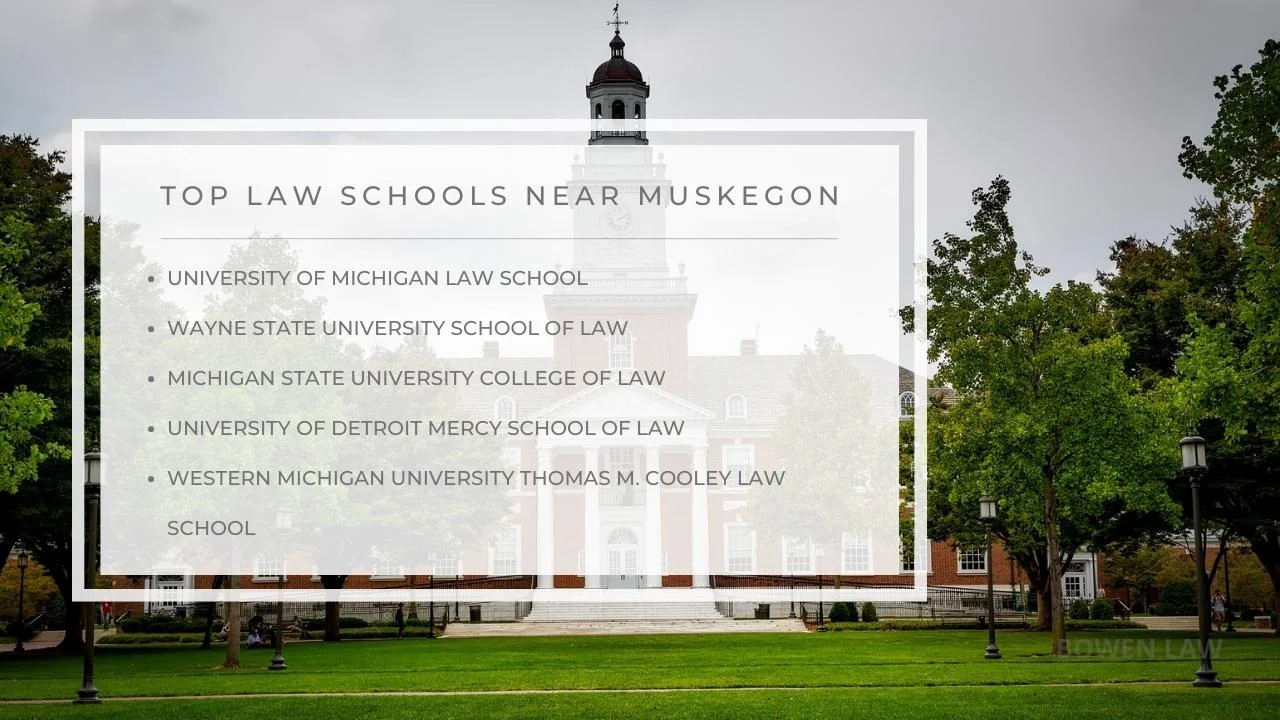 Study Law Muskegon Common Questions
How Long Does It Take to Get a Law Degree in Michigan / How Long Is Law School in Michigan?
All American Bar Association (ABA)-accredited law schools require at least 3 years of full-time study to finish a law degree or earn a Juris Doctor (JD). Part-time programs, though, can take about 4 to 5 years to complete. 
How Hard Is It to Get Into Michigan Law School?
Michigan Law School is one of the most academically competitive schools, so expect that its standards are pretty high. With an average acceptance rate of around 10.60% for the 2022 application cycle, you will have to meet strict criteria in order to get accepted. Furthermore, you must have excellent application scores and academic rigor. For its fall 2021 enrollment, the median accepted Law School Admissions Test (LSAT) is 171, while the median Grade Point Average (GPA) is 3.84.
How to Get Into University Of Michigan Law School
To be admitted to the University of Michigan Law School, you must submit your application electronically via the LSAC FlexApp. You need to submit the following application materials: 
Completed application form

Résumé

Personal statement

Letter(s) of recommendation (one is required, three are recommended)

LSAC CAS registration

Valid LSAT score

Application fee ($75) or waiver.
Following the university's admissions policy, your application will be subjected to a "holistic review." You'll receive notification of your application's status via email or by visiting the university's online status checker.
Conclusion
According to the 2021 national labor data, lawyers earn an average of $127,990 annually. That kind of income can be very enticing – it's no wonder so many seek these opportunities to study law. If you're interested in key topics such as "study law Muskegon," "study law Michigan," or Muskegon Law, we have tons of law articles to get you started.