The last thing any family wants to go through after a loved one passes away is complex legal and financial matters. During this time, it's best to hire a probate lawyer to help you go through the entire process.
It's necessary to settle the deceased estate to minimize any repercussions under the law. The probate can make sense of the will's instructions and settle insolvency when the estate has more debts than assets.
This article explains everything you need to know about a probate lawyer, including their functions, fees, and when you should hire one.
What Is a Probate Lawyer?
A probate lawyer is a state-licensed attorney who helps executors and beneficiaries of an estate settle the decedent's affairs.
They also assist their clients in navigating through the entire probate process, which includes distributing the state's assets based on the state law or will and paying the deceased's debts.
Most probate lawyers are hired to settle a dispute over the will or to act as legal advisors during the probate proceedings to avoid potential legal headaches later. Their role can also vary depending on the state's value and if there is a will or not.
Estate Planning vs. Probate Lawyers
Estate planning lawyers can help you "get your affairs in order." They are often hired to help clients plan for estate and assets after death.
The keyword here is "planning," which means estate planning lawyers are hired to manage the client's assets and estate while they are still alive. An estate planning lawyer can help your family or heirs keep most of your accumulated wealth.
Preparing legal documents is also another function of an estate planning lawyer. They draft wills, powers of attorney, trusts, and living trusts. Aside from inheritance, they also help their clients plan over unwanted events in the future, such as incapacity.
Meanwhile, a probate attorney handles the estate administration process after a person's death. In some cases, they may also serve as the administrator or executor of an estate if the person doesn't have anyone else to designate.
A probate lawyer can also do the duties of an estate planning attorney since it heavily relates to their area of specialization. Furthermore, they can help you determine whether the deceased has a will or not and if they have debts that need to be paid first.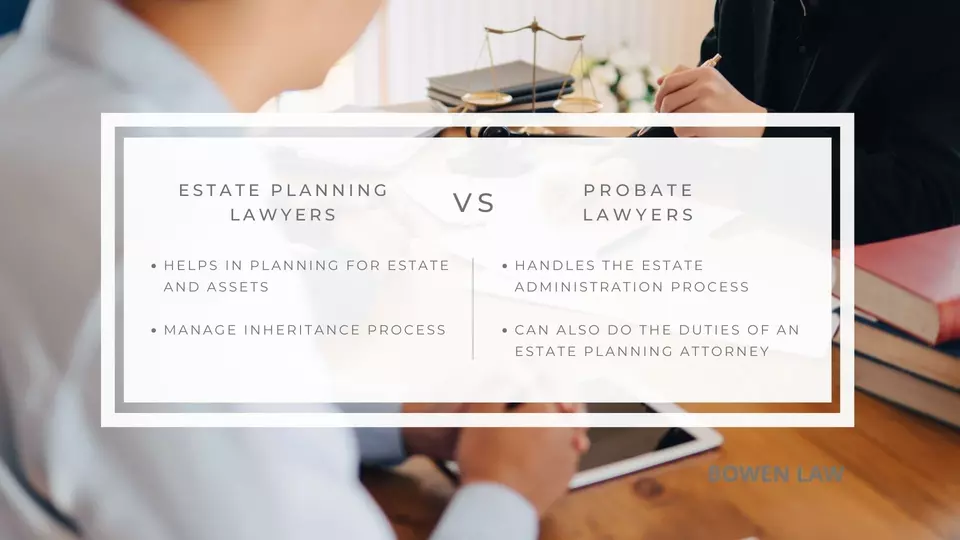 Responsibilities of a Probate Lawyer
Most probate lawyers are hired for legal advice. However, they could also manage their client's estate and assets. If the executor of the estate lives outside Missouri, they could hire the best probate lawyer Muskegon, MI could offer to supervise it.  
Below are probate lawyer responsibilities that you should know of:
Find, list, and secure the decedent's estate, including their savings and checking account(s), real property, vehicles, and other possessions  

Prepare and file the documents needed by the probate court

Examine the validity of the decedent's debts and advise on how to pay them

Secure an in-house or tax account as part of the deceased person's estate tax returns and final income tax filing

Identify any life insurance policies and collect their payout

Make the final distribution of assets and close the estate

Satisfy claims and notify creditors about the probate
Additionally, a probate lawyer keeps track of important dates related to the proceeding. Your probate attorney will work with other attorneys handling ancillary probates if the property is owned in multiple states.
Why Hire a Probate Lawyer?
Probate is a court process that can get complicated if you don't know the law. It's not something that an ordinary person can settle unless they hire a probate lawyer who specializes in this field. 
A probate attorney can help you navigate through various legal terminologies and nuances. They also ensure that the deceased's instructions are followed, and their heirs receive the inheritance they deserve or are rightfully owed. 
Below are some of the advantages of hiring a probate lawyer:
They minimize the number of disputes between family members and persons mentioned in the will. 

Hiring a probate lawyer lessens the stress on the deceased's family and frees their hands on the time-consuming and complicated court process. 

A probate lawyer will help avoid costly mistakes on the executor's part by preventing errors and protecting the executor from personal liability.

In some cases, a probate attorney may settle a potential lawsuit from a beneficiary before they can even file them. 

A probate attorney will speed up the entire process. 
How Much Does a Probate Lawyer Cost?
Probate lawyers charge their clients based on three methods:
A flat fee

An hourly rate 

A percentage of the estate's worth
The exact cost of their services may vary depending on the lawyer's experience, the legal matters that need to be tackled, and the going rate in the city or state where they practice. 
The hourly rate of a probate lawyer is between $200 and $500, on average.
Muskegon Probate Lawyers
Hiring a probate attorney is one of the best decisions you can make if you want your probate court proceedings to go smoothly. They provide sound advice and help you with all the paperwork. 
Bowen Law has the best probate lawyers that Muskegon, Michigan has to offer. Our attorneys are experts in their field and can help you settle legal matters fast. For more legal inquiries, reach us at (231) 726-4484 or at Bowen-law.com.