Deeds are legal documents that are used to transfer real property ownership. Warranty, covenant, and quitclaim deeds are among the types of deeds used in Michigan for property transfer. Each type of deed provides the grantee or buyer with a certain level of protection from title defects and other claims.
In this article, you'll learn what a quitclaim deed is and what it is used for. This article also includes an example Michigan quitclaim deed that you can use as a guide.
What Is a Quitclaim Deed?
A quitclaim deed is a document that transfers ownership of a property from a grantor to a grantee. Unlike covenant or warranty deeds, quitclaim deeds do not ensure a clear title. Having no guarantee means the grantor is not liable for any problems or claims that may arise after the transfer. Regardless of the risks to the grantee or buyer, quitclaim deeds are allowed in Michigan since they can be utilized in instances where no warranty is required.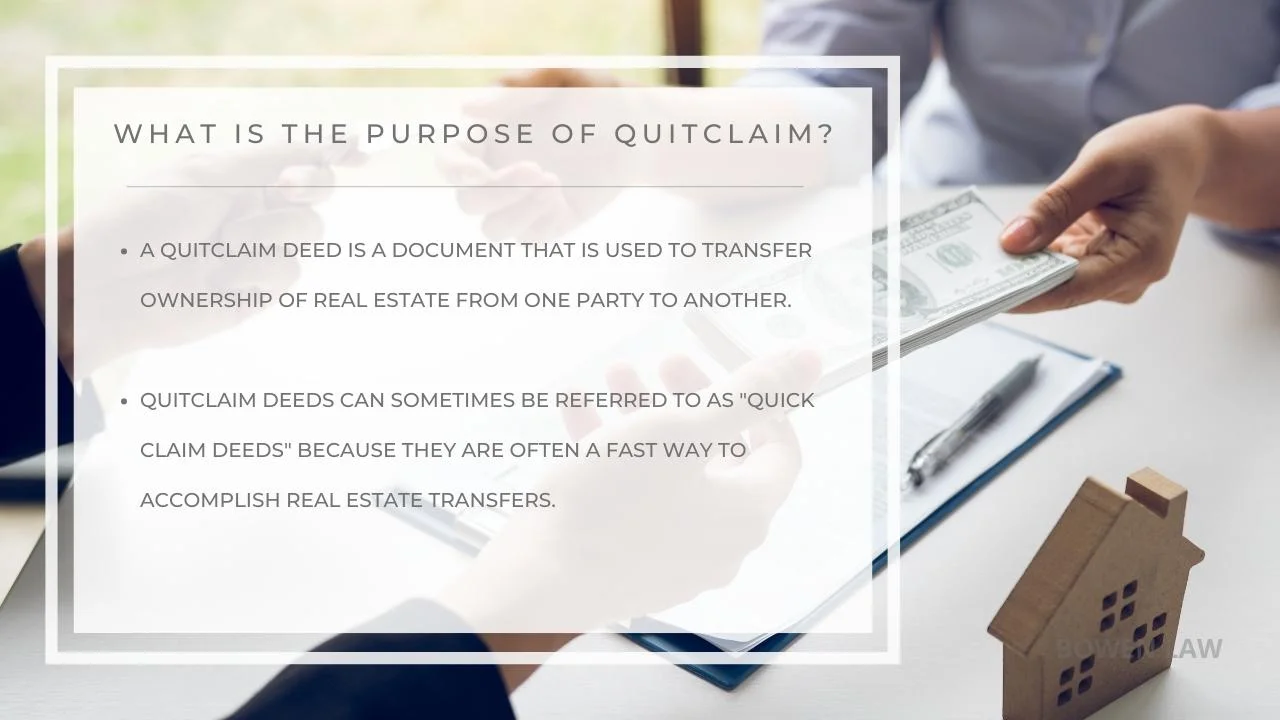 What Are Quitclaim Deeds Used for?
Quitclaim deeds are frequently used in transactions between parties who are familiar with each other and trust one another. A quitclaim deed is commonly used to transfer property ownership between:
Family Members.

A quitclaim deed is a convenient way of transferring a property to a family member. Usually, property transfer using quitclaim deeds does not involve any significant money transactions. As the property owner, you can quickly transfer the ownership of your property to your children, spouse, or any close relatives.

Divorced Couple.

Spouses can use a quitclaim deed to transfer property ownership to each other. For example, you can convey the ownership interest of your home to your ex-spouse following a divorce using a quitclaim deed.

Parent Company and Subsidiaries

. A quitclaim deed can be used to transfer property between the parent company and its subsidiaries. No subsidiaries will sue its parent company for any issues regarding the property and vice versa. 
Other situations that utilize quitclaim deeds include:
gifting of property to a charity or a friend;

correcting of title problems;

transferring property under a court order; and

transferring property to living trusts.
What Does a Quitclaim Deed Look Like?
A quitclaim deed is a legal document that records property transfer from a grantor to a grantee. In Michigan, a quitclaim deed includes the following elements:
Names of Parties
A quitclaim deed must contain the names of the grantor and the grantee. A grantor is a party that transfers the ownership interest of a property to another party. A grantee, on the other hand, is the party who receives the property interest from the grantor during the property transfer.
Consideration
A consideration is the price of the property that a grantee provides to acquire the property interest from the grantor. Some states require you to specify the consideration within the deed, while others do not. In Michigan, a quitclaim deed must include the statement of consideration.
Using quitclaim deeds to transfer property usually costs little or no money. You can specify in the quitclaim deed that the property transfer is for no consideration, or you can provide a minimal amount of monetary value, such as values under $100, to be exempted from state and county transfer taxes.
Description of Property
In addition to both parties' addresses, the quitclaim deed must also indicate the legal land description of the transferred property. The county registry office can provide the legal land description of your property.
History of Quitclaim Deeds
In the Middle Ages, the ownership of real property was transferred through a ceremony called the "livery of seisin." In this ceremony, the property owner hands over a symbolic piece of the conveyed land, such as a lump of dirt or a twig, to the person acquiring the property. The act signifies that the property owner intends to transfer the property to the buyer.
In the 1600s, the "livery of seisin" ceremony was abolished. Nowadays, a real property title is transferred from one person to another using a deed.
Sample Quitclaim Deed
The template for a quitclaim deed can differ from one state to another. Several templates can be downloaded from the internet. Nonetheless, quitclaim deeds must include all required elements, such as both parties' names and a description of the property being transferred.
A sample content of a Michigan quitclaim deed is shown below.
KNOW ALL MEN BY THESE PRESENTS, That NAME OF THE GRANTOR, a CIVIL STATUS & SEX, residing at ADDRESS (hereinafter known as the "Grantor(s)") hereby quit claims to NAME OF GRANTEE, a CIVIL STATUS & SEX, residing at ADDRESS (hereinafter known as the "Grantee(s)") for the sum of CONSIDERATION ($) and releases all the rights, title, interest, and claim in or to the following described real estate, situated in the County of NAME OF COUNTY, Michigan to-wit:
LEGAL DESCRIPTION OF THE PROPERTY
The parcel number, both parties' signatures, and the notary public's signature are all included in a quitclaim deed document.
Where Do You File a Quitclaim Deed in Michigan? Which Government Agency?
The parties involved in the property transfer must affix their signature, including the date signed, on the quitclaim deed in the presence of a notary public. After the quitclaim deed has been notarized, it can be filed in the Register of Deeds Office within the County to make the property transfer legal and effective.
Who to Call If You Need Help With a Quitclaim Deed? 
Though you can complete a quitclaim deed on your own, hiring a lawyer specializing in Michigan quitclaim deeds guarantees that your property transfer is managed appropriately. Bowen Law has experienced Michigan quitclaim deed lawyers who can assist you with legal guidance and representation during the property transfer process. We can also help you prepare your quitclaim deeds, ensuring that all the essential information is included as required by Michigan law. Call Bowen Law at (231) 726-4484 or contact us here.