Retainage puts a lot of pressure on contractors and is even used as leverage to put them in a disadvantageous position. Fortunately, contractors don't have to adhere to this practice as other options, such as a retainer bond, provide better opportunities.
This post discusses the various facets of a retainer bond and why it's a better arrangement than a retainage – especially if you are a contractor. Included are the pros and cons of a retainage bond and when the best time to use it. 
What Is a Retainage?
Retainage, also called retention, is a standard practice in the construction industry. The client's final payment is withheld for a defined period to assure a contractor or subcontractor has fulfilled their obligation of completing the project as agreed upon. 
The contract often stipulates the withheld amount and ranges between five to ten percent of the total amount. However, there are instances when the amount can be higher or lower depending on the client's demands. 
Both private and public projects allow the use of retainage since it guarantees that the project follows the client's specifications and prevents issues like delays. On the other hand, it serves as a financial incentive to the contractors and subcontractors to finish the project. 
What Are Retainage Bonds?
You are not alone if this is the first time you hear about a retainer bond. Many contractors in Michigan are unaware of this option that can minimize the financial risk of taking a project. 
Retainage provides some assurance that if a project runs into trouble, there will be plenty of money to make things right. A retention bond accomplishes the same task without deducting money from progress payments.
Most retention bond agreements state that the client won't withhold cash retention. In exchange, the contractor or construction company will pay a surety bond's premiums, which replaces the retainage money. 
A contractor can secure a retention bond at the beginning of the project to avert retainage. They can also use it as the project progresses to keep a hold on an accumulating retainage.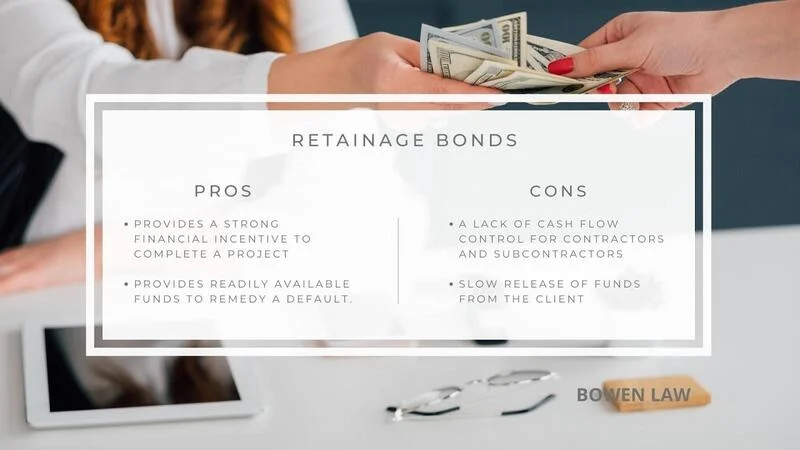 How Can Retainage Bonds Benefit Contractors?
Retainage bonds work best for contractors and subcontractors when the bond premium is cheaper than the retainage amount. It presents various advantages to the contractors since it allows them to maintain a steady cash flow.  
A retention bond allows the retainer to receive the payment in full instead of a partial 90 to 95 percent of the agreed amount. It also provides additional funds to remedy an issue before the project's completion. Furthermore, it helps prevent construction companies from defaulting. 
Using retainage bonds, though, is not ideal if the premium is more expensive than the retainage amount that would have been withheld. It wouldn't make sense to pay more upfront than having a small percentage out of every paycheck. 
Sample Retainage Bond Contract
Here is a sample template of a retainage bond contract:
We recognize that in accordance with the terms of your Contract ("the Contract") with (hereafter referred to as "the Applicant") of ……………………………….
For the agreement made on…………………………………, you are keeping the sum of $………………… that you are willing to release the retention aforementioned in exchange for a guarantee and the Contract value.
In exchange for you disbursing the sum of $…………………….. We now guarantee the reimbursement to you on demand of up to $……………………. to the Applicant if the Applicant fails to fulfill the said Contract, provided that your claim under this agreement is received in writing at our office along with your signed statement:
Retainage Bonds vs. Prompt Payment
Only projects funded by a public entity are subject to Michigan's prompt payment law. Some public projects, though, are not governed by these restrictions, such as community colleges, school districts, state housing development authorities, and state transportation.
Once a contractor has fulfilled their contractual obligations, public construction projects must specify who is to submit payment requests, as well as when and how they should be submitted.
The public entity must pay the prime contractor on two dates.
30 days after the professional engineer or architect issued a certification to the public agency that the work performed complied with the contract terms

14 days after the public agency got the money from the agency or department funding the project
Construction Law Experts
Retainage bonds offer multiple advantages to a contractor that you won't get from a standard retention agreement. It is advisable to hire a reliable lawyer that can tailor a contract that works in your best interest while also being fair to your counterpart. 
Bowen Law provides outstanding legal assistance to contractors and subcontractors in Michigan. Our attorneys are construction law experts who know the ins and outs of the industry. Look no further if you need a Muskegon construction attorney – we're more than willing to represent you. 

For more legal inquiries, contact us at (231) 726-4484. You can also reach us here.