Legal terminology can be confusing, and it's not uncommon to hear people use the terms "lawyer" and "attorney" interchangeably. However, there is a difference between these two terms. In this article, our Muskegon business attorney will elaborate on the difference between an attorney and a lawyer, guiding you on which legal professional can best help your legal needs.
What is the Difference Between an Attorney and a Lawyer?
The difference between a lawyer and an attorney lies in the scope of their professional qualifications and responsibilities. Knowing the distinction is essential when seeking legal assistance.
Attorney
The term attorney is derived from the formal title "attorney-at-law." An attorney is a legal professional who has completed a law degree from an accredited law school, passed the bar exam, and obtained a license to practice law. They are authorized to provide legal advice and represent clients in court proceedings. Attorneys may also specialize in a particular area of law, such as business, real estate, criminal, or employment law.
After successfully passing the state bar exam, attorneys take an oath to become a member of the state bar association. As members, they are expected to adhere to a set of ethical rules that govern their professional conduct, which include maintaining attorney-client confidentiality, avoiding conflicts of interest, charging reasonable fees, and ensuring effective client communication. Any violations may lead to disciplinary actions, such as suspension or disbarment.
Lawyer
A lawyer is an individual who has fulfilled the educational requirements of law school and has received a Juris Doctor (JD) degree. Unlike attorneys, though, lawyers are only legally allowed to practice law or represent clients in court after passing the state bar exam. If they do not, they may be charged with unlawful practice.
Despite their lack of a license, lawyers may still pursue job opportunities that allow them to apply their legal knowledge in practical settings. They may work in a law firm, under the guidance of an attorney, or in other legal fields, such as government agencies or non-profit organizations. Some lawyers draft legal documents for clients, while others work as consultants, providing legal guidance to individuals or businesses.
Why Does the Difference Matter?
A lawyer is someone who has a law degree but is required to have the legal authority to practice law. On the other hand, an attorney is a type of lawyer who has been admitted to the bar association and is qualified to appear in court and carry out legal proceedings on behalf of clients. Generally, all attorneys are lawyers; however, not all lawyers are attorneys.
Understanding the difference between a lawyer and an attorney can help you choose the right legal professional for your needs, ensure that you have appropriate legal representation, and navigate the legal system more effectively. For instance, if you are seeking legal advice or representation in a court of law, then it is essential to employ the services of an attorney. However, a lawyer may suffice if you only need help with filling out legal forms or seeking answers to general legal questions. 
It's also worth noting that there are many different types of lawyers and attorneys, each with their own specialties within their local jurisdictions. For example, if you have business legal needs in Michigan, you should seek the legal expertise of an experienced Muskegon business attorney or lawyer. 
Other Terms for Similar Legal Professionals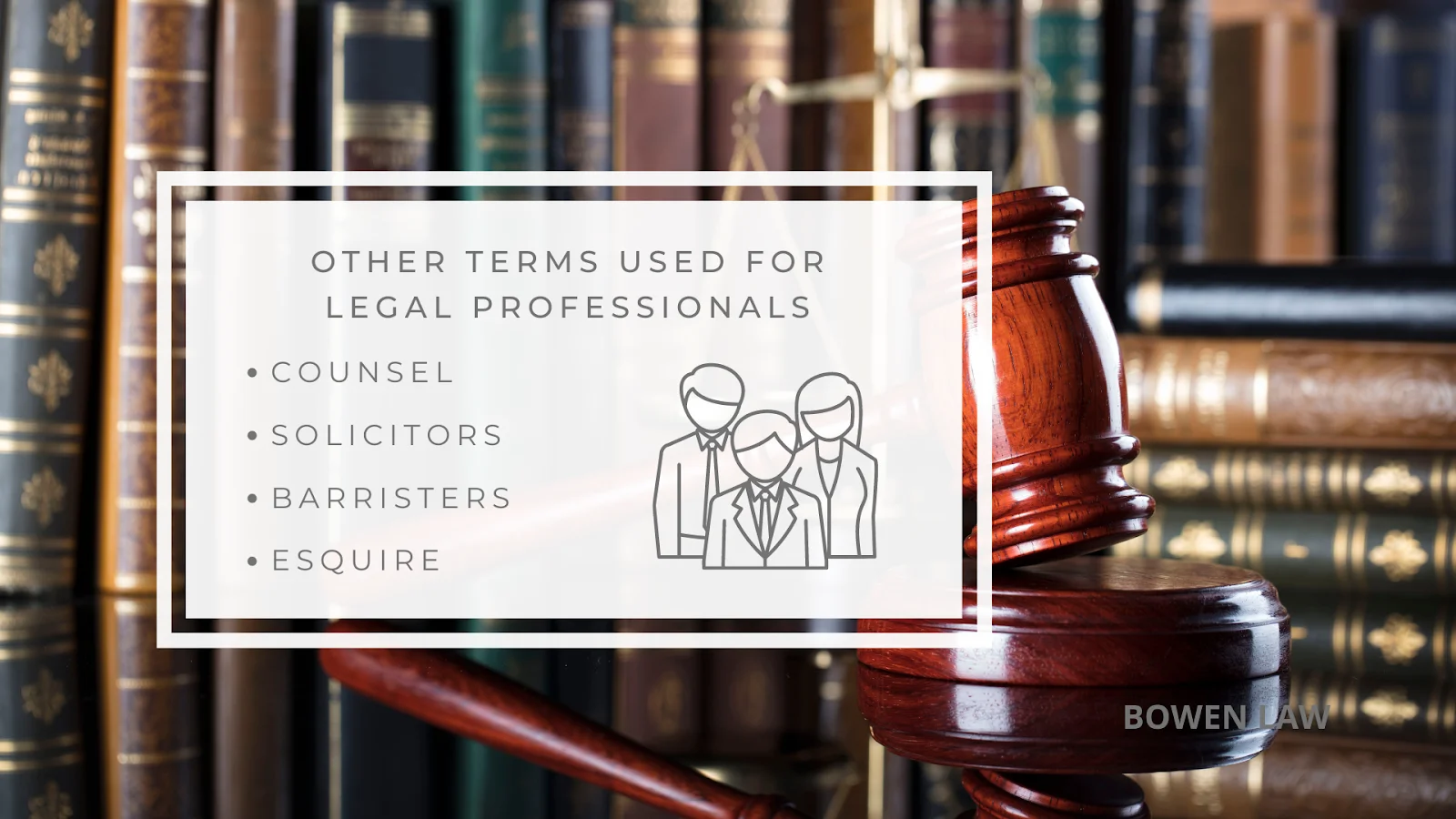 There are other terms used for legal professionals similar to lawyer and attorney. Here are some of them:
Counsel
A legal or in-house counsel is a lawyer employed by a corporation or organization to provide legal guidance and representation. Such legal professionals typically work exclusively for one client and handle a broad range of legal issues that arise within the company.
Solicitors
A solicitor is a legal professional in the UK who provides legal advice and represents clients in legal matters. They are usually responsible for preparing legal documents, managing client relationships, and negotiating settlements.
Barristers
A barrister is another law practitioner in the UK who specializes in courtroom advocacy. Barristers provide expert advice and representation in complex cases, especially in high courts and courts of appeal. They are known for their advocacy skills and are trained to present legal arguments and cross-examine witnesses in court.
Esquire
In the US, the term "esquire" is typically used as a courtesy title for attorneys or lawyers. It is usually abbreviated as "Esq." and placed after the name. However, the use of the term is not regulated by law, and it does not confer any specific legal status or rights.
Which One Do You Need?
We at Bowen Law have a team of competent Muskegon business attorneys specializing in business law, real estate law, and civil litigation, with over 37 years of combined experience. We are committed to protecting the rights and interests of our clients by providing them with reliable legal guidance and representation. If you need legal assistance, call us at (231)-726-4484 or contact us here.