Hiring a reliable business lawyer is one of the best decisions any entrepreneur can make for their company. Whether the business is just starting or has been in the market for years, having a dependable business lawyer can help the company navigate many legal issues. 
However, the challenge for many companies is going through the process of finding and hiring the best business lawyer that will help them protect their interests. As an entrepreneur, you want to focus on your business and let an expert handle the messy legalities that are involved with owning a business.
Here is a short guide on how you can hire the most competent, qualified business lawyer in your area:
Identifying Your Business Legal Needs 
Certain events can come up during a company's existence that could slander the company name or derail the company's goal(s). Companies in these circumstances would benefit by utilizing the services of legal counsel, especially if it involves the best business lawyer Muskegon has to offer. You need a business lawyer to prevent litigation and minimize the damage it does to your company's reputation. 
Some industries over others have a higher rate of lawsuits filed against a company, typically from former employees, customers, or competitors. For example, the music industry often deals with copyright infringement, and the fashion industry is strict with endorsement disclosure. 
Meanwhile, if you want to sell your company or secure outside funding, a business lawyer can help you understand its current valuation. They can also help you secure intellectual property rights and trademarks or go after those who use them without your consent. 
Overall, you need to identify your business's legal needs and find someone with a good track record of dealing with the legal problem you are facing. 
Evaluating Different Business Lawyers 
After you have identified your company's legal needs, the next step is to evaluate what type of business lawyer you need. When it comes down to it, hiring a business lawyer who is experienced in the field that relates to your situation makes everything easier and increases your chances of winning the litigation.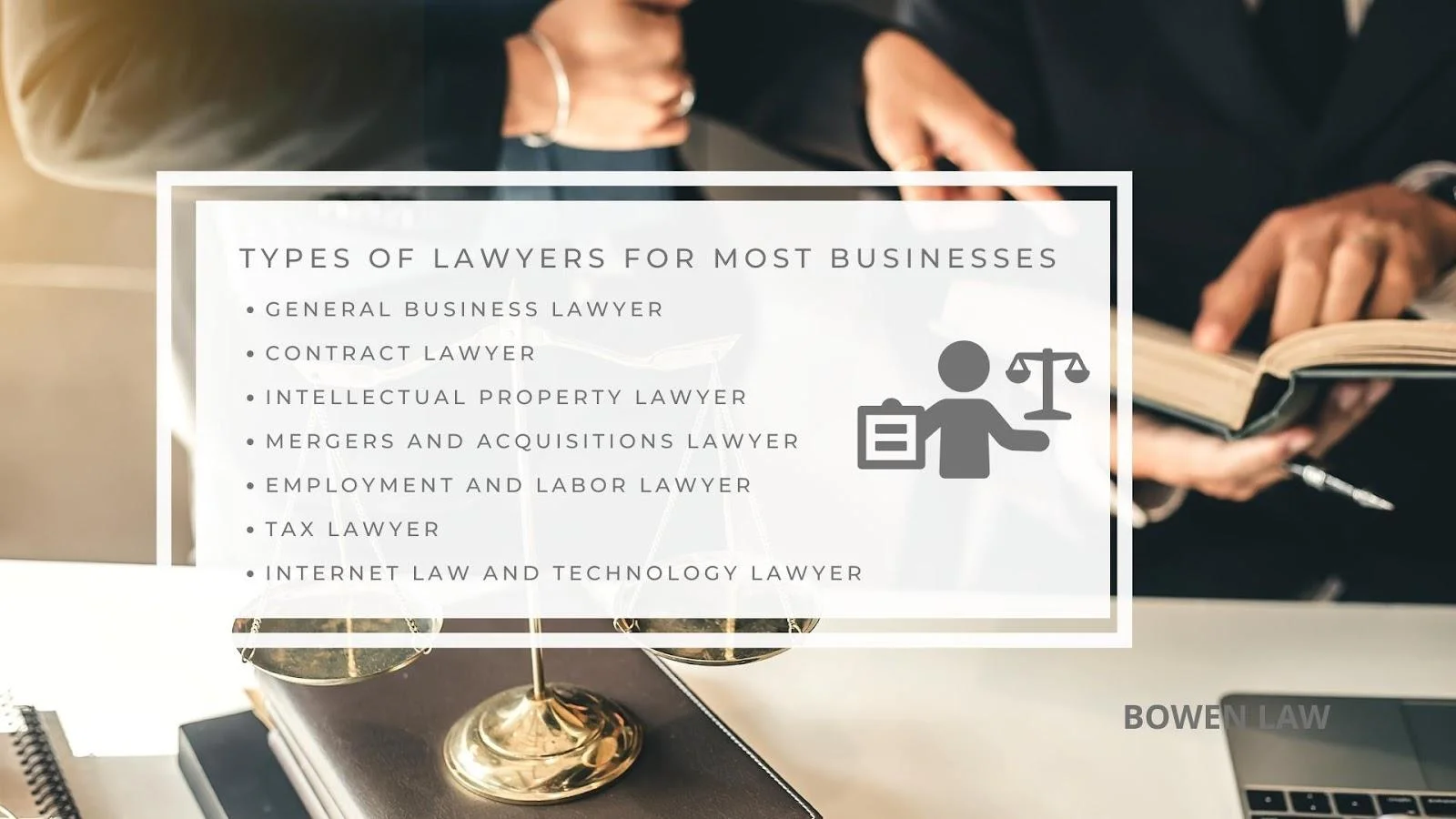 There are several types of lawyers for most businesses, namely:
General business lawyer

Contract lawyer

Intellectual property lawyer

Mergers and acquisitions lawyer

Employment and labor lawyer

Tax lawyer

Internet law and technology lawyer
Hiring a general business attorney is best if your business situation doesn't require anything specific. Furthermore, you should look for someone with the skills, expertise, qualifications, and personality that fits your legal needs. 
Always conduct a short interview with your business attorney candidates to ensure you get the best business lawyer Michigan offers. Hiring a reliable lawyer is also a must if you are simply not comfortable with the basics, like contracts and their common clauses.
Understanding the Cost of a Business Lawyer 
Hiring a business lawyer means first estimating and setting aside a budget for legal fees and expenses. Most business attorneys require an upfront payment before you can secure their legal services, and depending on your situation, costs may accrue over time. To avoid spiraling into debt, it is essential to make an affordable financial plan when hiring legal help.  
Before employing a business lawyer, ask them to provide an estimate for their service and request a payment arrangement that would be best for both parties. There are various payment options for their service, such as flat rate, hourly rate, negotiable fee, contingency fee, and retainer for future fees. 
Small businesses may be eligible for a discount from some business law firms on their flat fees or hourly service rates, including company formation, trademark and patent searches, and first contract reviews.
Researching the Credentials of a Business Lawyer
Checking into a business lawyer's credentials and client history is the due diligence needed from any company looking to hire legal help.
For the general public, getting in touch with the licensing or regulating body that issues the bar license in that state is the best approach to ensure that the prospective attorney is authorized to practice law in a particular area. The state's bar association often oversees the licensing or regulating agency.
Knowing a business lawyer's history in cases similar to yours is critical if you want to win the litigation. Fortunately, you can access a lawyer's track record online by studying the case results and reviewing testimonials posted on their website. The state's bar association website is also an excellent place to check if the attorney has any violations against them. 
Determining the Best Fit for Your Company
Utilizing network recommendations is one of the best methods to find a lawyer appropriate for your business. Ask coworkers or other small company owners for recommendations of attorneys they may have employed in the past or are presently working with. Or, scour the internet to find the best-rated lawyers in a particular field or area. 
Bowen Law firm is one of the most recognizable providers of business lawyers in Muskegon, Michigan. We specialize in many aspects of business law and are trusted by many businesses in the state. If your company needs help with legal paperwork or litigation, call Bowen Law now at (231) 726-4484! You can also reach us by filling out this contact form.