Financial elder abuse refers to the mistreatment, exploitation, or manipulation of older adults, typically aged 65 and above, with the intent to unjustly take control of their financial resources. This form of abuse can manifest in various ways, each targeting the financial status of elderly individuals.
Elderly individuals are often vulnerable due to factors such as physical frailty, cognitive decline, or isolation, making them prime targets for unscrupulous individuals seeking to exploit their assets. In this article, our knowledgeable Muskegon attorney will elaborate on how you can help identify and prevent such financial elder abuse cases.
Understanding Financial Elder Abuse
Financial elder abuse can take various forms, each of which poses a significant threat to the financial well-being and security of older adults. Here are some common forms of financial elder abuse:
Scams.

Perpetrators use deceptive tactics to trick seniors into giving away their money or personal information. These scams can occur through phone calls, emails, or in-person interactions and often involve fictitious offers, false emergencies, or promises of prizes.

Fraud.

Fraud involves manipulating older adults into making financial decisions that are not in their best interest. For example, dishonest financial advisors may recommend risky investments or inappropriate financial products to generate commissions or fees, harming the older adult's financial well-being.

Theft.

Theft is a more straightforward form of financial elder abuse, where individuals unlawfully take an elderly person's money, property, or assets without their knowledge or consent.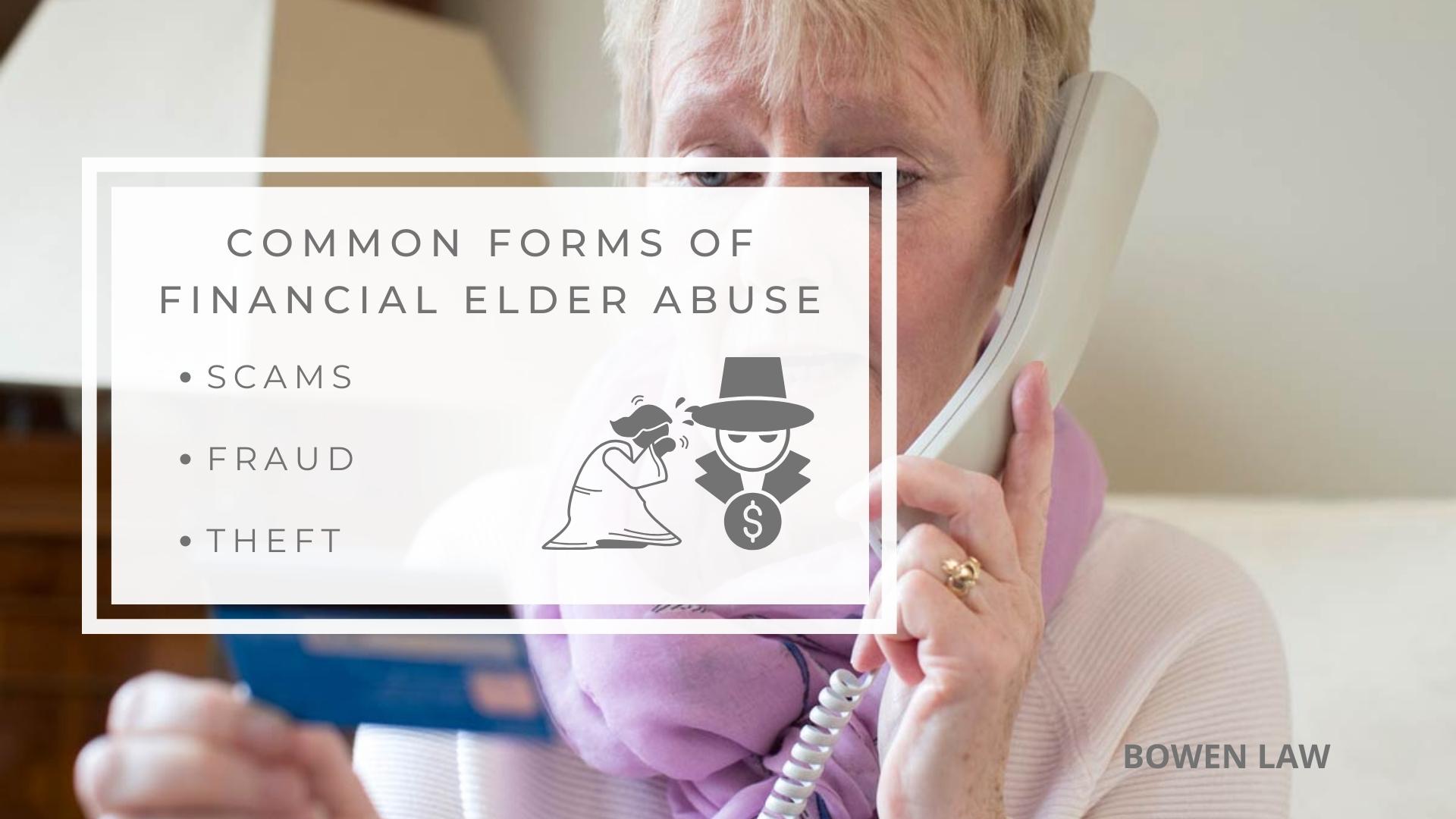 In Michigan, over 73,000 individuals are victims of elder abuse, enduring neglect, physical and emotional mistreatment, and financial exploitation. One recent case of financial elder abuse involves a Montcalm County woman who was found guilty of embezzling thousands of dollars from a 90-year-old woman she was hired to care for. She faced multiple charges, including theft from a vulnerable adult and unauthorized use of financial resources. A jury convicted her, leading to her immediate arrest and sentencing to over five years in prison. She was also ordered to repay nearly $98,000 to the victim's estate. 
The victim, a 90-year-old woman, had been living with her daughter and son-in-law. After her daughter's unexpected passing in October 2018, the abuser, who was the son-in-law's sister, was hired to care for her. The abuser allegedly exploited her position of trust, stealing money from the victim's bank account and using her Discover Card for unauthorized cash advances, all without the elderly victim's consent. Such a case underscores the vulnerability of elderly individuals and the importance of safeguarding them against financial exploitation.
Recognizing Signs of Financial Elder Abuse
Financial elder exploitation often leaves behind telltale signs and red flags that caregivers, family members, or concerned individuals should be vigilant about. Here are some of them:
Unexplained financial transactions

Changes in banking or account access

Missing assets or funds

Isolation

Unpaid bills

Altered legal documents

Excessive gifting or financial assistance

Coercion or fear

Unexplained companionship

Financial mismanagement

Lack of basic necessities

Unexplained loans or debts
You can help prevent financial elder abuse by watching out for these signs. Here's what you can do to recognize them:
Stay in touch with the elderly person and watch for any unusual changes in behavior. 

Keep an eye on their finances, especially for unexpected expenses.

Be cautious if they're being isolated from friends and family.

Make sure bills and essential expenses are being paid on time. 

Review important legal documents, such as wills, trusts, or powers of attorney.
If you notice any problems or concerns, report them to the right authorities and offer your support to the older person. Your vigilance can protect them from harm.
Reporting Financial Elder Abuse
Elderly individuals are often targeted by perpetrators of financial abuse due to their perceived vulnerability. Reporting cases of financial elder abuse is a fundamental step in protecting the elderly from exploitation, ensuring justice for victims, and preventing future incidents. 
Adult Protective Services (APS) is a government agency operating in every U.S. state, including Michigan, dedicated to safeguarding vulnerable adults, including elderly individuals, from various forms of mistreatment, such as abuse, neglect, and exploitation. APS collaborates with law enforcement when criminal activity is suspected and may recommend legal action or protective measures when it is deemed necessary. 
To report suspected financial elder abuse in Michigan, you can contact the Michigan Department of Health and Human Services (MDHHS) through their statewide APS hotline at 855-444-3911, which operates 24/7 for reporting abuse concerns. Alternatively, you can visit the MDHHS website and submit a report online.
Prevention and Protection
If you suspect financial elder abuse and believe legal action may be necessary, consider hiring a local Muskegon attorney. Our experienced Muskegon attorneys here at Bowen Law can provide you with legal advice and guidance, helping you understand your rights, legal options, and potential courses of action. We can also help you conduct thorough investigations into the alleged financial elder abuse, gathering evidence to support the victim's claims. To schedule a consultation, call us at (231)-726-4484 or contact us here.