An Asset Purchase Agreement (APA) is a legal contract that outlines the terms and conditions governing the purchase and sale of assets between two parties, typically a buyer and a seller. This agreement is commonly used in business transactions where one company or individual wishes to acquire specific assets of another company rather than purchasing the entire business as a whole. APAs are prevalent in various industries and can vary in complexity depending on the nature of the assets being acquired. In this article, our skilled Muskegon business lawyer will help you understand the intricacies of APAs and elaborate on the importance of these documents in asset purchase transactions.
Understanding Asset Purchase Agreements
Asset Purchase Agreements clearly define the assets being transferred, allocate liabilities, specify the purchase price and payment terms, and outline representations and warranties. For example, let's say you want to buy a restaurant. The APA would list all the assets you're getting, like the kitchen equipment, tables, chairs, and even the recipes. It specifies the purchase price, which might include not just the money but also any assumption of debts or liabilities related to the restaurant. If, after the purchase, you find out that a piece of equipment isn't working properly or there's an unresolved customer complaint, the APA would outline whether the seller has to fix these issues or if you need to handle them yourself.
An APA safeguards the interests of both the buyer and the seller, ensuring that the transaction proceeds smoothly and according to agreed-upon terms. Without an APA, the parties would lack a comprehensive agreement, leaving room for disputes, misunderstandings, and legal risks that could jeopardize the success and security of the asset purchase transaction.
Key Elements of an APA
APAs encompass various key elements that define the rights, obligations, and responsibilities of both the buyer and the seller in an asset purchase transaction. These include:
Identification of Parties.

The agreement clearly identifies the buyer and the seller, including their legal names, addresses, and other relevant contact information.

Description of Assets.

A detailed description of the assets being sold is provided, including tangible assets like equipment, inventory, and real estate and intangible assets like intellectual property, customer contracts, and goodwill.

Purchase Price.

The agreement states the purchase price for the assets, which may be a fixed amount or subject to adjustment based on factors like inventory valuation or working capital at closing. Payment terms are also outlined, such as lump-sum payments, installment payments, or the use of escrow accounts.

Representations and Warranties.

Both the buyer and seller typically make representations and warranties about the assets being sold. These assurances cover various matters, including the legal ownership of the assets, their condition, and any known or undisclosed liabilities associated with them. 

Indemnification.

Provisions for indemnification are included, where the seller agrees to compensate the buyer for any losses or liabilities arising from breaches of representations, warranties, or specific circumstances outlined in the agreement.

Closing Date.

The agreement specifies the date when the transaction will be completed. On this day, the ownership of the assets transfers from the seller to the buyer.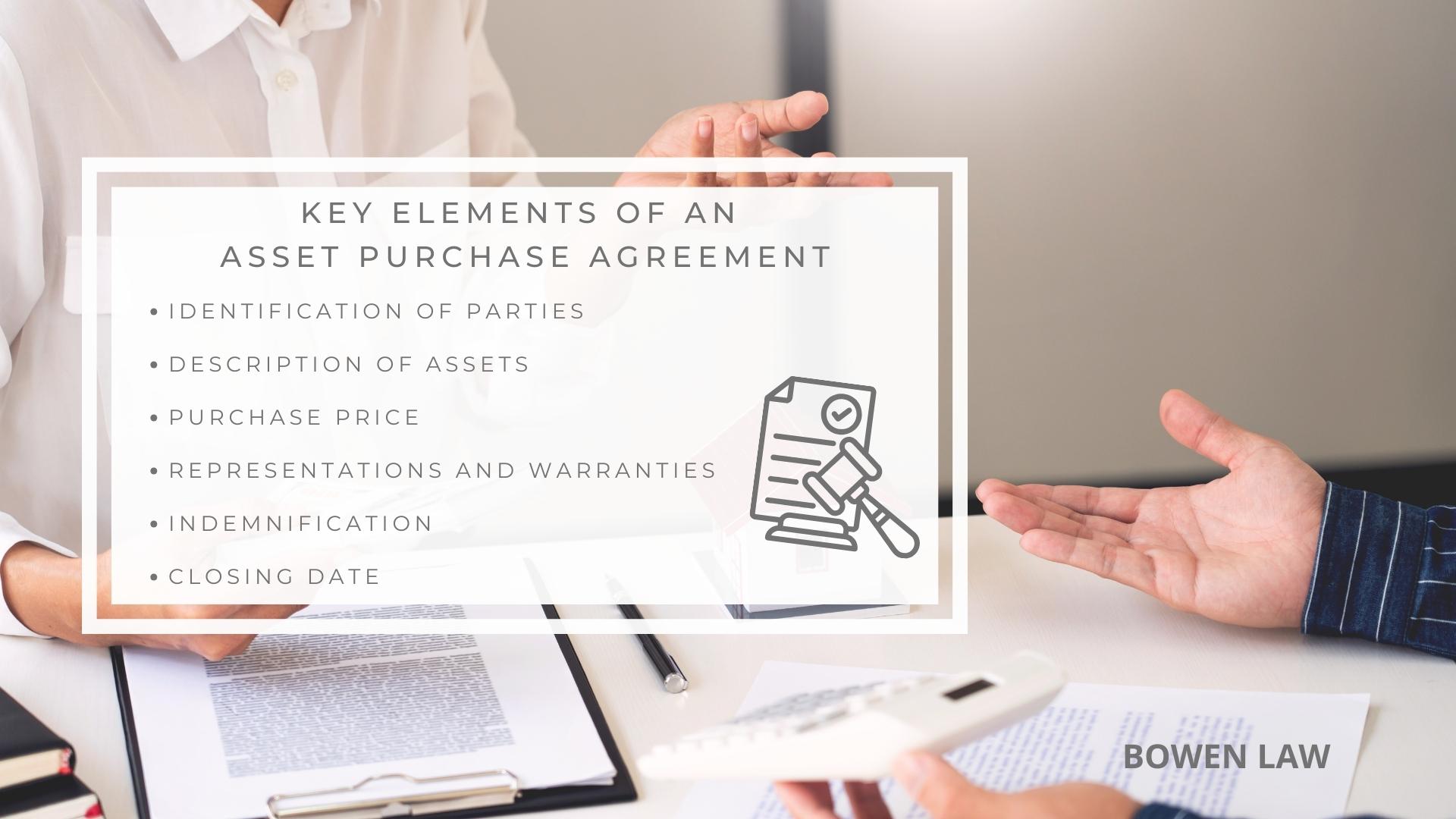 Benefits of Legal Expertise
Legal expertise is instrumental in asset purchase transactions, offering a range of benefits that help ensure the success and legality of such deals. Here are some advantages of hiring a qualified Muskegon business lawyer:
Ensuring Legal Compliance 
Asset purchase transactions often involve complex legal issues, including regulatory requirements, tax implications, and contractual obligations. Legal experts possess a deep understanding of these intricacies and can help you navigate the legal landscape. They can guarantee that the transaction complies with all relevant laws and regulations, protecting you from potential legal consequences and regulatory challenges.
Negotiating Favorable Terms
Legal professionals are skilled negotiators who can work to secure advantageous terms for their clients. In Asset Purchase Agreements, they can negotiate not only the purchase price but also other critical provisions, such as warranties and representations, indemnification clauses, and dispute resolution mechanisms. Their expertise can help you achieve a more favorable deal structure and mitigate risks associated with the transaction.
Drafting and Reviewing Contracts 
APAs are intricate documents that require precision and attention to detail. Competent business lawyers excel in drafting and reviewing these contracts to ensure they accurately reflect the parties' intentions and safeguard their rights. They can identify potential pitfalls, ambiguities, or legal gaps in the agreement that might lead to disputes later on.
Specific Ways a Muskegon Business Lawyer Can Assist
Conducting due diligence when buying or selling business assets is a fundamental practice. Due diligence allows both parties to assess the risks associated with the transaction. Buyers can identify potential liabilities, undisclosed debts, pending lawsuits, or environmental issues related to the assets they are acquiring. On the other hand, sellers can assess the financial strength and credibility of the buyer. 
Muskegon business lawyers are invaluable during the due diligence and investigation phase of asset purchase transactions. They will use their legal expertise to carefully examine financial documents, contracts, licenses, and permits related to the assets you're dealing with, helping you identify and mitigate any potential risks or liabilities. Additionally, your lawyer serves as a trusted advisor, offering guidance to ensure you make well-informed decisions and remain in compliance with Michigan legal and regulatory requirements.
Successful Asset Transactions Are One Step Away
An Asset Purchase Agreement establishes the rights and obligations of the buyer and seller, helps mitigate risks, and ensures that both parties understand the terms of the deal. Seeking assistance from an experienced Muskegon business lawyer when drafting or reviewing an APA guarantees that your interests are protected and that the agreement complies with all applicable Michigan laws and regulations.
Bowen Law is here to provide you with legal guidance through every step of the asset purchase transaction, from preparing the APA and completing due diligence to closing the deal. With our in-depth legal knowledge and commitment to safeguarding your interests, we ensure that the processes involved in the business asset sale are conducted smoothly and securely. Contact us today at (231)-726-4484 or here to schedule a consultation.