Starting and running a business can be an exciting and challenging process, but it can also be daunting, especially when navigating complicated legal procedures. As a business owner, you may encounter legal challenges that demand the assistance of a legal professional to address them effectively.
Hiring a business lawyer allows you to focus on growing and expanding your business while ensuring it is compliant with legal regulations and protected from potential legal issues. Here, you'll learn the legal considerations of starting your own business and how hiring business lawyers can help you deal with them.
Legal Considerations for Starting a Business
There are many legal considerations that business owners must take into account to protect themselves, their assets, and their company. Here are some of them:
Business Structure
Michigan has several types of business structures, including sole proprietorship, partnership, limited liability company (LLC), and corporation. Each structure has different legal and tax implications, so it is crucial to choose the right one when starting your own company. 
For instance, sole proprietors are entitled to every business profit, but they are also personally responsible for all business liabilities. Meanwhile, LLC owners are not entirely liable for the company's financial obligations. 
Contracts
Business contracts are legal agreements between two or more parties that establish the terms and conditions of a business transaction. Having well-written contracts is essential to protect the company's and its owner's interests and prevent legal disputes. 
Contracts can cover a variety of areas, including sales, partnerships, employment, intellectual property, and more. For example, a contract is used for partnership agreements, outlining the roles and responsibilities of each owner and other ownership conditions. 
Licenses and Permits
Though Michigan does not require a general business operating license, certain businesses must comply with the specific state license and permit requirements to operate legally. Grocery stores, for example, must acquire a food establishment license for selling food products and a permit from Michigan Liquor Control Commission (MLCC) for alcoholic drinks sales. Michigan counties and municipalities may also have their own licensing requirements. Obtaining all necessary licenses and permits for your business is essential to avoid legal issues and potential fines.
Intellectual Property
Intellectual property refers to original and creative works such as inventions, designs, and brand names. Michigan businesses can protect their intellectual property through patents, trademarks, copyrights, and trade secrets. A trademark, for example, provides you exclusive rights to use a label or name.
Protecting your intellectual property helps you maintain a competitive edge and prevent others from using or profiting from your ideas. However, registration of trademarks and patents may involve legal procedures, which can be complicated and time-consuming. Hiring a competent Muskegon attorney can make the process much simpler for you, saving you time and resources.
Employment Law
As a business owner, it is essential to understand the legal requirements for hiring, firing, and managing employees. There are several laws and regulations governing employer-employee relationships in Michigan, including minimum wage, overtime, leave, hiring, termination, and other labor laws. Having clear policies and procedures for your business can help prevent legal disputes and ensure compliance with employment laws.
Non-compete and non-disclosure agreements are also important considerations not regulated by the law that you may need to include in drafting employment contracts to protect the interest of your business.
Benefits of Hiring a Business Lawyer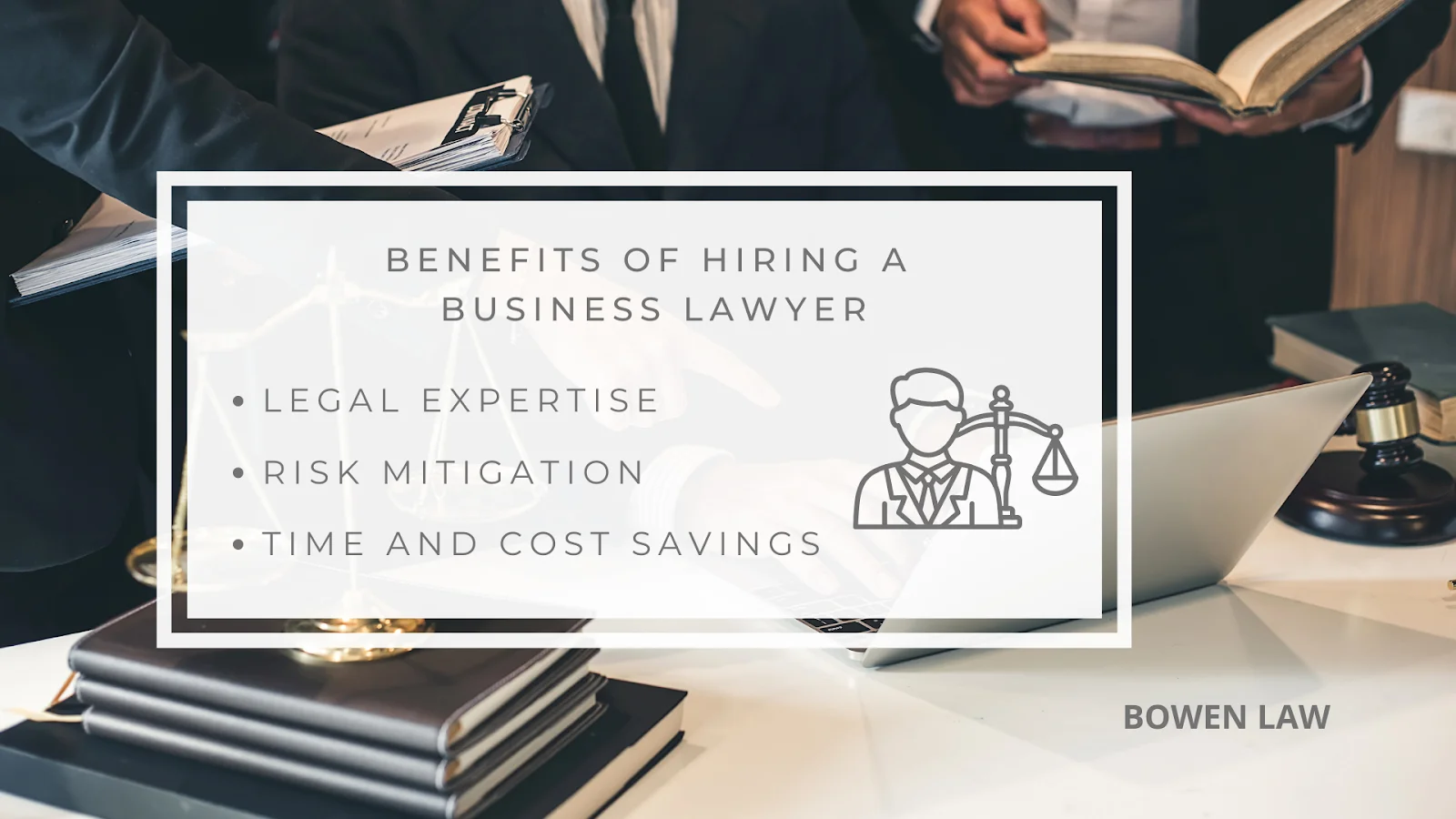 Hiring a business lawyer can provide many benefits, which include the following:
Legal Expertise
A Muskegon business lawyer has the expertise to help you navigate complex legal issues and regulations related to business structures, contracts, intellectual property, licensing, employment, and more. They can also guide you on compliance with Michigan laws and regulations, helping you avoid legal disputes and potential lawsuits.
Risk Mitigation
With the assistance of an experienced Muskegon business attorney, you can identify and mitigate potential risks that could harm your business. Business lawyers can help you understand potential liability issues, allowing you to minimize the risk of lawsuits. They can also draft, review, and evaluate contracts and agreements to ensure these are legally binding and favorable to your business. 
Time and cost savings
Hiring a qualified Muskegon business lawyer can save you time and resources that could be better spent on other aspects of your business. From drafting and reviewing contracts and agreements to acquiring licenses and permits, business attorneys can handle all the legal procedures necessary to start your business. Having a business lawyer by your side ensures that your company adheres to Michigan state regulations, helping you avoid costly mistakes that could lead to litigation.
Let Bowen Law Help You Start
Hiring a business lawyer is a critical step in starting a business. We at Bowen Law have the best Muskegon business lawyers who can provide valuable legal advice, help you navigate complex legal processes, and represent your business in court if necessary. Call us at (231)-726-4484 or contact us here.